Resource / 27 Oct, 2014
UNFCCC Gender Mandate Guide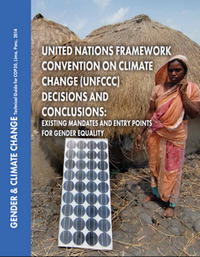 It is increasingly evident that women are at the centre of the climate change challenge. Women are disproportionately affected by climate change impacts such as droughts, floods and other extreme weather events but they also have a critical role in combating climate change.
A new policy guide has just been published on existing mandates and entry points for gender-related issues under the UNFCCC. The purpose of the guide is to support decision-makers, negotiators and advocates in mapping current decisions that contain specific references to gender-related issues across all main areas of negotiations under the UNFCCC.
This mapping supports users in more effectively monitoring the implementation of gender-sensitive climate change policies and actions at all levels.
Both decisions and conclusions are listed in the guide. Many of these conclusions will be considered at the Lima Climate Change Conference in December.
The guide was developed by the Global Gender and Climate Alliance and is available in English and Spanish, and soon in French.
Read more on gender and climate change on the UNFCCC website.