Photo by IISD

The ADP successfully opened in the morning of March 10, with countries eager to make progress on advancing understanding on the elements of the 2015 agreement, as well as on contributions to the 2015 agreement.
In her

opening address to the plenary, UNFCCC Executive Secretary Christiana Figueres spoke of 2014 as a year with much promise and potential, and stressed that it must be a year of greater action and ambition to check the advance of climate change and set the ground for a successful, global climate agreement in Paris.
She drew attention to the groundswell of action among many different stakeholder groups, including investor groups and the business community, cities and sub-national governments, military forces, as well as youth, faith and environmental groups. A recurring message during conversations she has held with many of these groups is: "climate action is the best way to minimize risk and capture rewards."
Ms Figueres highlighted the fact that these stakeholder groups are taking responsibility and acting themselves, while putting wind in the sails of the international negotiation process.


Photo by IISD

A technical expert meeting process was launched by ADP Co-Chair Artur Runge-Metzger on 10 March. The process kicked off with a focus on renewable energy and energy efficiency, and will turn to other topics with a high emission reduction potential during the course of 2014, such as avoiding deforestation. At the opening of the first meeting of the process, ADP Co-Chair Artur Runge-Metzger gave a strong message about the need for this process to showcase concrete results at COP 20 in Lima.
"By the end of the year at COP, we should be able to see tangible results – new and strong national and international initiatives, governments adopting new policies and taking on bankable and implementable actions, and the mobilization of resources needed to make this happen," Artur Runge-Metzger said.

The purpose of the technical expert meeting on renewables is to begin a process to unlock opportunities to curb emissions, involving all relevant stakeholders. Artur Runge-Metzger also said that greater visibility of the outcomes of the technical examination process was necessary to inspire all stakeholders to take the necessary action.
The International Renewable Energy Agency IRENA highlighted that the global renewable energy share can reach and exceed 30% by 2030, and that together with energy efficiency, renewables can play a central role in helping the world stay below the agreed maximum two degrees Celsius temperature rise.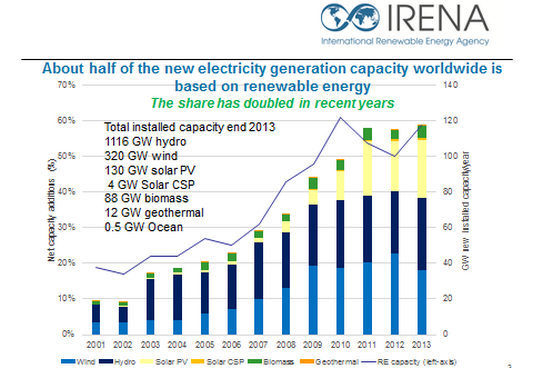 Already today, around half of all new electricity generation worldwide is based on renewable energy, which is increasingly becoming a job creation machine. IRENA also pointed to the fact that whilst there is a considerable potential for renewable costs to fall, fossil fuel subsidies are still disrupting the market (See more details in the IRENA's Renewable Energy Roadmap).
The US, China, Kenya and Marshall Islands gave presentations about efforts they are making nationally to deploy renewables, and what challenges they have had to overcome, or barriers they continue to face. Delegates spoke about challenges associated with deploying renewables, for example around cost, access to technology, supply and demand imbalance.
On Tuesday, delegates will discuss how the challenges and barriers can be addressed and how the UNFCCC process can assist Parties in realizing their ambition in deploying renewables.