The tenth part of the second session of the Ad Hoc Working Group on the Durban Platform for Enhanced Action (ADP) was held from 31 August - 4 September 2015 in Bonn, Germany. Compiled working document
Compilation of working documents for Workstream 2

The scenario note, the Co-Chairs' tool and further clarifications can be found here
In-session calendar and documents
In-session calendar and documents
Mon31 Aug Tue1 Sep Wed2 Sep Thu3 Sep Fri4 Sep
Inputs received
Inputs received from Parties

Submissions and statements from Parties can be uploaded directly by Parties to the Submission Portal
Statements from Civil Society at ADP 2-10
Updated information on facilitators and co-facilitators
| | | | |
| --- | --- | --- | --- |
| Date | Time | Briefings and other events | Meeting rooms |
| 1 September | 13:30-15:00 | | Nairobi 4 |
| 2 September | 13:30-15:00 | | Nairobi 4 |
| 2 September | 14:00-15:00 | Special Event with observers | Wien 1-2 |
| 4 September | 13:00-14:00 | Briefing by the secretariat on the preparation of the synthesis report on aggregate effect of the intended nationally determined contributions communicated by Parties by 1 October 2015 | Nairobi 1-3 |
INDC portal
The UNFCCC INDC portal is open to submissions by Parties. More information on the INDC process and portal is available here.
Information on undertakings on adaptation planning is available here.
Technical examination process
More information can be found here.
The Co-Chairs' corner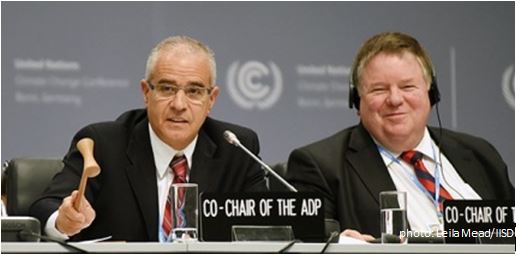 On 26 August, the Co-Chairs started work with secretariat and consulted with groups of Parties in the days immediately prior to the session.

From 6-7 September, the Co-chairs attended the ministerial informal consultations in Paris in preparation for the Paris COP21/CMP11 negotiations.