Initiative / 20 Oct, 2017
#Art4Climate Project in Portugal : Educating Young People about Climate Change with Comic Art
This article is the latest in our series #Art4Climate, a joint initiative by the UNFCCC secretariat and Julie's Bicycle on the work of artists who make the issue of climate change more accessible and understandable by featuring it in their work. It was inspired by a session at the Salzburg Global Seminar in early 2017.
Young people in Portugal are being educated about the risks of climate change and the opportunities of climate action with the help of comic art.
Portugal is particularly vulnerable to climate change due to its long coastline, the significance of agriculture for the economy and its geographic position as one of Europe's most southern countries, making it prone to the type of deadly heatwaves that swept Portugal this June.
Bruno Pinto is the writer of "Special Report: Adaptation to Climate Change in Portugal", a publication developed as part of the award-winning project ClimAdaPT.Local. He says the book is a great resource to teach about climate change in classrooms, as well as a way to reach young people who otherwise might not see this global issue as something that affects them personally.
"We think that this format is particularly appreciated by teenagers and can be a good introduction and complement formal education on climate change", he says. "Art and Science can be combined to help people understand the world that surrounds us. Getting both the art and the science parts right is not always easy. But we believe that comics have good potential for science communication", he adds.
Seeing Climate Change Through the Eyes of a TV Reporter
The book tells the story of a TV reporter who is working on a story about climate change in Portugal. The protagonist embarks on a trip around the country, where she meets with academics, climate change experts and government employees to get a complete overview of what climate change entails.
She also meets average people who are being affected by climate change. For example, Bruno the surf teacher who talks about the risks his business faces because of stronger storms. Or José Arruda, a 62 year old storekeeper in Algarve whose shop was seriously damaged after a flood, and was not insured.
Of of all the stories included in the comic book, Bruno Pinto has a special connection to this one, "because this actually happened whilst I was writing the script, we were able to integrate it in the book", he says.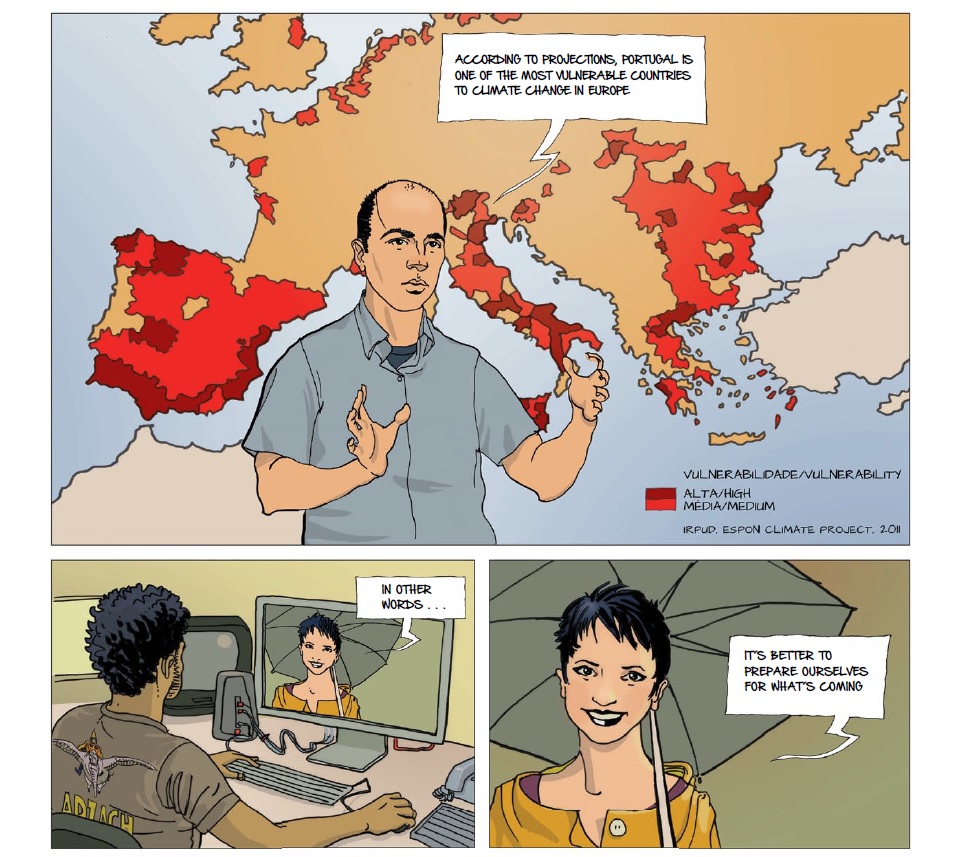 Highlighting the Need for Better Insurance against Climate Risk in Portugal
Special Report covers many aspects of the impacts of climate change, from sea level rise and the increased risk of tropical diseases such as dengue on the Portuguese island of Madeira, to heatwaves and strong storms, as well as efforts to rebuild and recover following extreme weather impacts such as floods and lost harvests.
The issue of insurance against extreme weather impacts in Portugal is particularly important, both because the country is vulnerable and because people often have fewer financial resources.
Building resilience to climate change is a priority for the Portuguese government, who is one of the supporters of the comic art project and is keen to raise awareness about the need for better insurance coverage.
Climate Comics Pioneered by UNICEF During COP21 in Paris
The project is not the first time that comics are deployed to build awareness about climate change. In 2015, to coincide with the UN Climate Change Conference in Paris (COP21), UNICEF launched Comics Uniting Nations, a comic series targeted at younger audiences.
"The successful implementation of the Paris Climate Change Agreement depends very much upon the actions of citizens, NGOs and other organizations and their ability to work with governments. Media such as comic books are important to raise awareness about the issue of climate change and to stimulate the involvement of citizens", says author Bruno Pinto.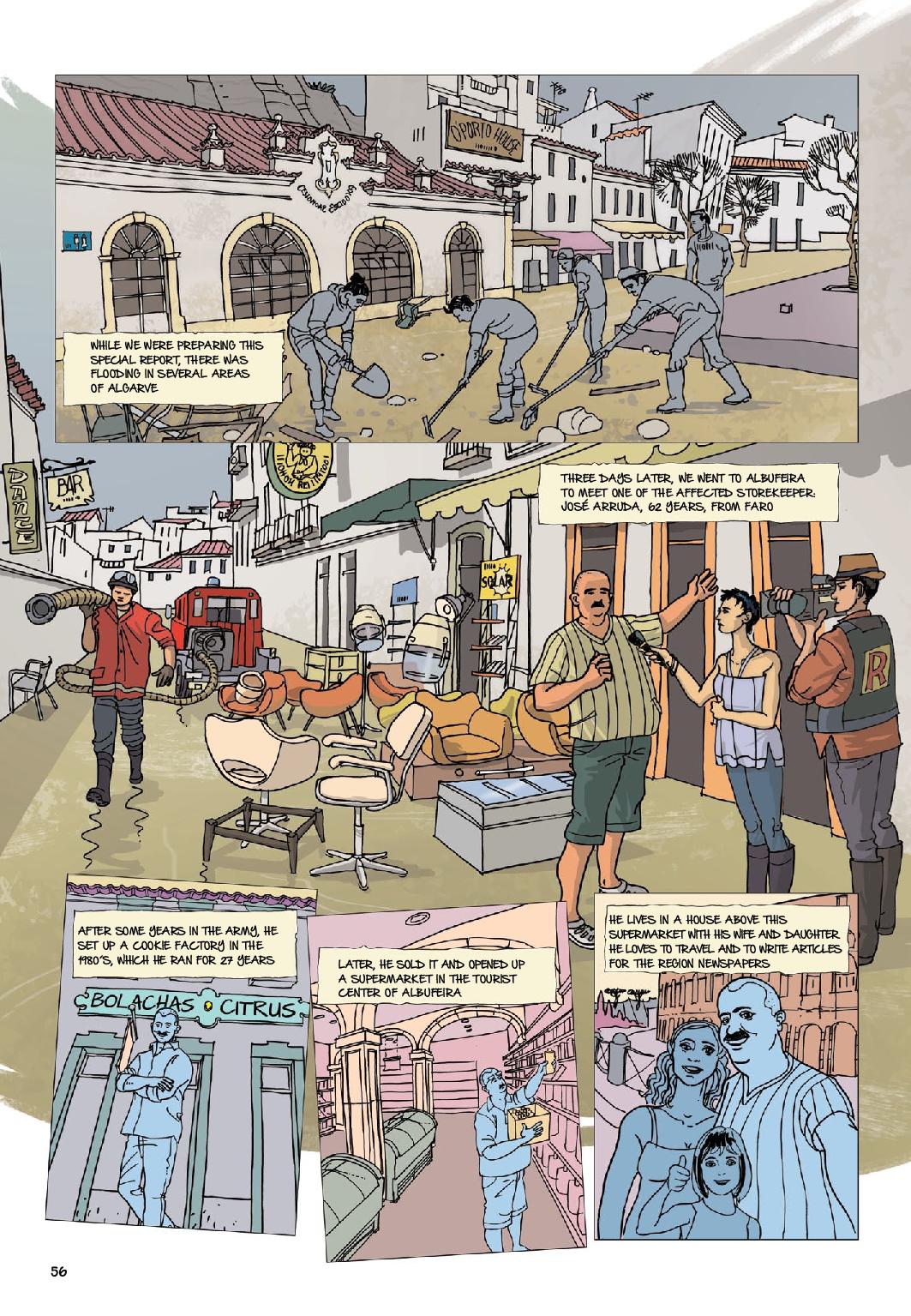 Click picture to enlarge
The comic is popular both among schools and municipalities in Portugal, who have invited the artists to give presentations about their work. And anyone can download the English and Portuguese editions of the comic for free on the ClimAdaPT.Local website.
Special Report: Adaptation to Climate Change in Portugal is a project developed as part of the award-winning project ClimAdaPT.Local, a Portuguese initiative launched in 2015 financed by EEA Grants, the Portuguese Environment Agency and the Portuguese Carbon Fund. The project is focused on developing municipal strategies for climate change adaptation and works with 26 municipalities. It was written by Bruno Pinto, with Quico Nogueira as the colorist, and Penim Loureiro as the illustrator.
#Art4Climate is a joint initiative by the UNFCCC and Julie's Bicycle to spot and propose super recent and new works in this broad field, but we also want to hear from you! Please send any proposals for showcasing to newsroom@unfccc.int or Chiara@juliesbicycle.com.
Please amplify our web posts with Twitter hashtag #Art4Climate and #COP23!