Article / 08 Mar, 2017
UNFCCC Celebrates International Women's Day 2017
International Women's Day provides an opportunity to celebrate the progress made towards gender equality and women's and girl's empowerment, and also to reflect on how to address the challenges that remain. In the climate change area, a 2016 policy report revealed that 64 out of 190 country national plans for addressing climate change (so-called intended nationally determined contributions or INDCs) included a reference to women or gender.
At a national and local level, there is a growing body of examples and case studies of enhanced climate policy development and implementation in which women are included in all aspects, not only as 'recipients', but also as key stakeholders and solution makers.
Observer Valerie Boudreaux uses a hot water testing rig to measure the water flow and temperature of each house in the U.S. Department of Energy Solar Decathlon in Washington, D.C.
Photo Credit: Dept of Solar Energy Decathlon / Flickr
At the UNFCCC, there a many reasons to celebrate. An understanding of the importance of women and girls as agents of change, crucial to ensuring the long-term sustainability and effectiveness of climate action in all countries while overcoming existing gender inequalities, is now firmly established.
This is demonstrated for example through the UNFCCC Momentum for Change initiative, which shines a light on the enormous groundswell of activities underway across the globe that are moving the world toward a highly resilient, low-carbon future. Momentum for Change recognizes innovative and transformative solutions that address both climate change and wider economic, social and environmental challenges. The initiative counts 6 focus areas: Planetary Health, Climate Neutral Now, Financing for Climate Friendly Investment, ICT Solutions, Urban Poor and Women for Results. The latter, in focus today for the International Women's Day, recognizes the critical leadership and participation of women in addressing climate change.
Inspirational stories include the four 2016 Women for Results winners:
In India, rural women are being trained in entrepreneurship and enhancing capacity to marketing clean-energy projects in their communities. This encourages clean energy and teach women useful business skills, improving their standard of living. For children, it provides a light to study by.
In Morocco, a women-led organization is harvesting water from fog as an adaptation activity in an area with persistent water stress. This is an innovative solution to climate impacts that delivers water where it is critically needed.
In Nepal, a unique certification scheme measures how companies, governments and individuals can drive social and economic empowerment for women. It is accelerating investments in women as it 'rewards' projects that combine climate action with women's empowerment, and by doing so recognizes and values women's critical role in tackling climate change.
In Uganda, an association of women-led groups collect individual-savings of at least USD 1 once a week to generate a pool of funds, from which women borrow and invest into income-generating activities that address climate change. This initiative also empowers women undertake land planning, agro-forestry and soil conservation practices and use energy saving stoves.
In 2016 in Marrakech, countries agreed to a 3-year work programme on gender that aims to address challenges and 'sticky' issues that are holding back progress, such as how to ensure that more women are leading and deciding on solutions and climate policy under the UNFCCC. Given the depth and breadth of the policy areas involved in addressing climate change – from agriculture to urban infrastructure to a new world of work - the gender work programme and action plan under the UNFCCC has the potential to drive real progress towards advancing gender equality and empowering women and girls everywhere.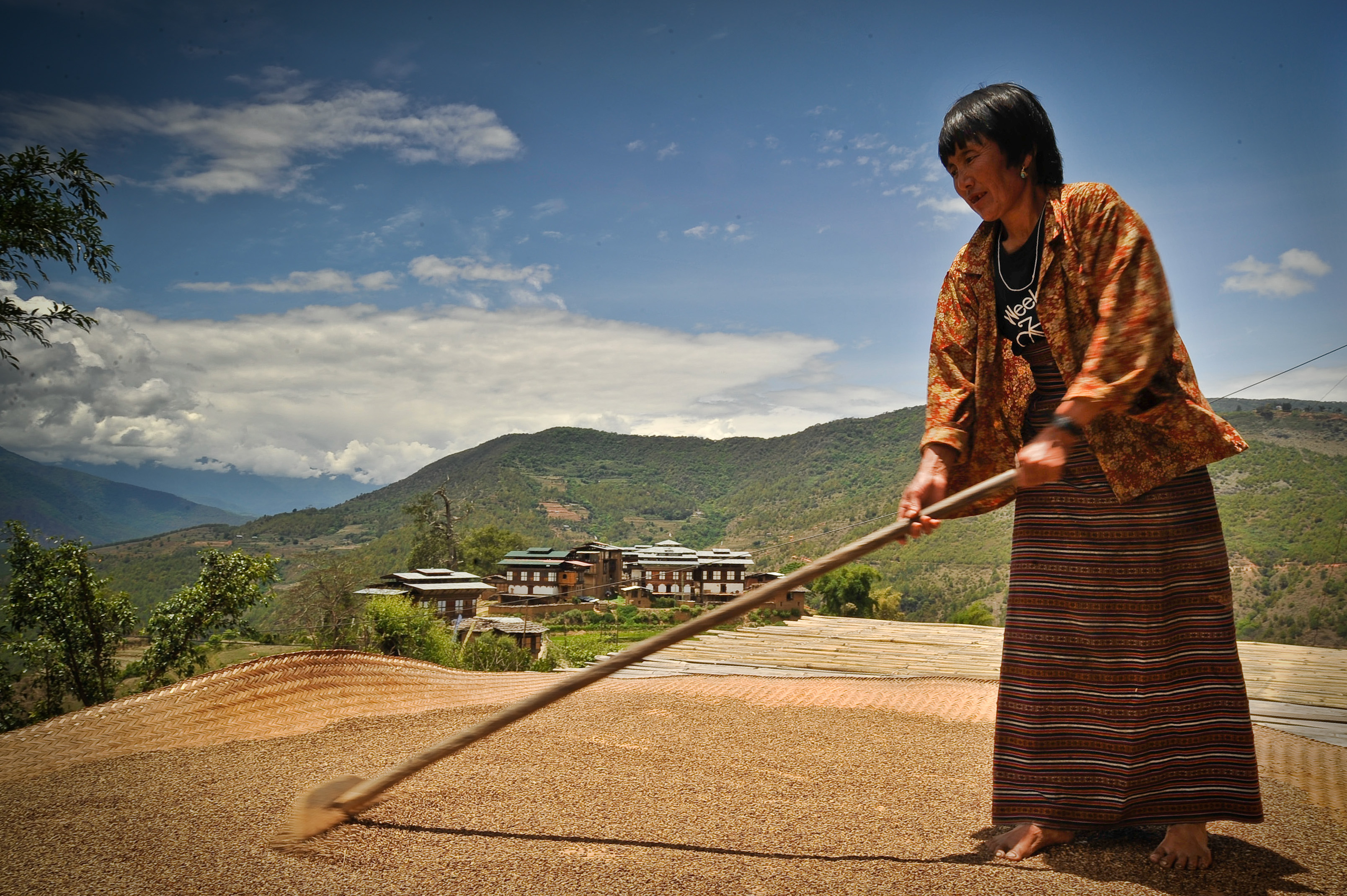 Environment experts say Bhutan is one of the world's "hot spots". 7 in 10 families depend on agriculture, and the country faces a potential catastrophe from climate change.
Photo Credit: Asian Development Bank / Flickr
Are you involved in a women-led solution that addresses climate change? If so, you could be selected as a 2017 Momentum for Change Lighthouse Activity. To apply and learn more, visit http://momentum.unfccc.int