- showcasing how transformational NAMAs are contributing towards moving developing countries along a low-emissions development trajectory
Audio recordings of NAMA Day Speakers are available on the NAMA Partnership Wiki.Read comprehensive report on NAMA Day from IISD Reporting ServicesPhoto credit IISD Reporting ServicesL-R:Christiana Figueres, UNFCCC Executive Secretary; Manuel Pulgar-Vidal, COP 20 President and Minister of Environment, Peru; and Rodrigo Suárez Castaño, Climate Change Director, Ministry of Environment and Sustainable Development, Colombia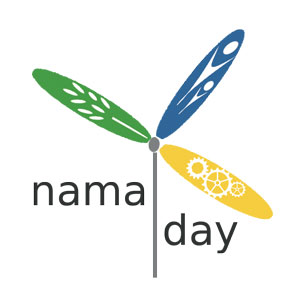 Developing countries are successfully using Nationally Appropriate Mitigation Actions (NAMAs) as an instrument to contribute towards national sustainable development and also towards closing the pre-2020 ambition gap. NAMA Day aims to showcase NAMAs that are contributing towards moving developing countries along a low-emissions development trajectory and to inspire further transformational action on the ground.
The Day will provide a platform to learn from developing countries that are taking the lead in design and implementation of NAMAs. It will also provide excellent opportunity to hear from and meet one-on-one with a wide range ofpublic and private international organizations that are actively engaged in helping developing countries realize their low-emissions developmentaspirations.
NAMA Day is hosted by the UNFCCC in partnership with BMUB, DECC, GIZ, UNEP DTU, UNDP, and The Ministry of Environment of Peru.
(refreshments will be served)
Agenda

Opening
(45 Min.)

Opening address by H.E. Mr. Manuel Pulgar Vidal, COP20 President and Minister of Environment, Peru

Key note address by Ms. Christiana Figueres, UNFCCC Executive Secretary

Presentation by Mr. Rodrigo Suarez, Climate Change Director,
Ministry of Environment and Sustainable Development, Colombia on the role of NAMAs in contributing to transformational change and filling the pre-2020 ambition gap, and linkages between NAMAs and INDCs

Financing
(30 Min.)

Panel discussion: Perspective of private investors and development banks

Policies and financial mechanisms that have the potential to remove barriers to NAMA implementation

Panelists from:

Presentation of NAMAs and Information on Support

(45 mins)

Presentation of NAMAs and support by national governments, international organizations, MDBs, national development banks, private sector and NGOs.

Brief presentations by donors on support they have provided for NAMAs

Developing country presentations on "success factors" for their NAMAs under implementation (NAMAs that received international support and implementation of ambitious domestically supported NAMAs)

Presentation of NAMAs seeking support for feedback from donors and potential financiers (private sector and development banks)

Exhibition and Help Desk

(45 mins)

Poster exhibition of NAMAs and information on financial and technical support

(international organizations will also have "help desk" to provide advice to developing countries interested in NAMA development and implementation)

Wrap Up

(15 minutes)

Wrap up by Mr. Rodrigo Alejandro Nieto EnrĂ­quez,Undersecretary of Urban Development and HousingMinistry of Agrarian, Territorial and Urban Development, Mexico

Poster Exhibition
and Help Desk

13:00-15:00

Continuation of poster exhibition and help desk
Contact: Ms. Tshering Sherpa tsherpa@unfccc.int +49 228 8151240