Momentum for Change: Promoting Community Participation in Sustainable Settlements in Abuja, Nigeria
---
Focus area: Mitigation; Adaptation
Website
Location: Abuja, Nigeria
Established: September 2007
---
The activity promotes community participation in sustainable settlements with an objective to:
-Allow communities to share ownership and responsibility for urban development and governance processes.
-Engage in collaborative tri-sector planning process involving the government, private sector and communities;
-Entrust urban planning, development and management into the hands of the local communities.
The activity has been driven by the communities themselves, who were taught how to engage in community enumerations to help urban planners in city planning, promote economic participation and advocate for an inclusive, people-centered city. The report of the enumerations activity has provided a source of valuable lessons in democratic reforms and mutual accountability.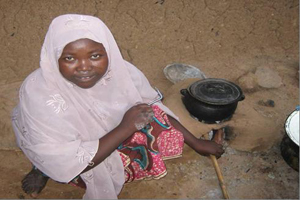 Mitigation / Adaptation

Benefits

Potential for scaling-up and replication

The activity has contributed to climate change adaptation through the provision and conservation of water resources, sensitization of community members on energy conservation, training of women on the use of energy efficient stoves, and tree planting.

Tree planting and diversification of economic activities have very much been promoted in the course of this project.

-The activity has supported economic empowerment of communities through a community-run loan scheme
-The project has led to notable reduction in environment-related diseases such as diarrhea, cholera and other air and water-borne diseases.
-The overall quality of life in many slum communities has increased due to participatory urban planning.
-Improvements in municipal public services due to community participation, including improvements in basic social amenities, roads, water, primary health care and education.

The activity initially started in 6 communities but has been scaled up to 16 communities in Abuja. It is also being expanded to cover additional 4 states in Nigeria. The activity has also catalyzed a public private partnership, where the communities partner with government and the private sector to design and construct climate-friendly housing.
Images owned by the activity partners, all rights reserved.