The eighth part of the second session of the Ad Hoc Working Group on the Durban Platform for Enhanced Action (ADP) was held from 8-13 February 2015 in Geneva, Switzerland.
Report of the ADP on the eighth part of its second session
FCCC/ADP/2015/2
Work of the contact group on item 3
Negotiating text (Official document)
All sections of the text made available during the session can be found here
Additional sessions of the ADP in the second half of 2015
31 August to 4 September 2015 (Bonn)
19 to 23 October 2015 (Bonn)
INDC portal
The UNFCCC INDC portal is open to submissions by Parties. More information on the INDC process and portal is available here.
Information on undertakings on adaptation planning is available here.
Submission Portal
Submissions to be presented under the ADP can be uploaded by Parties directly to the Submission Portal.
Visit the Co-Chairs' corner
During the closing plenary of the ADP on 13 February 2015, the ADP agreed that the negotiating text resulting from the session in Geneva is the negotiating text which will constitute the basis of the negotiations for a protocol, another legal instrument or an agreed outcome with legal force to be adopted at the twenty-first session of the Conference of the Parties.
At the end of the plenary meeting, the ADP agreed to suspend the session and resume it in conjunction with the forty-second sessions of the subsidiary bodies in June (ADP 2-9).

Meetings held at ADP 2-8
In-session documents
Status Report on consideration of agenda items
Statements at ADP 2-8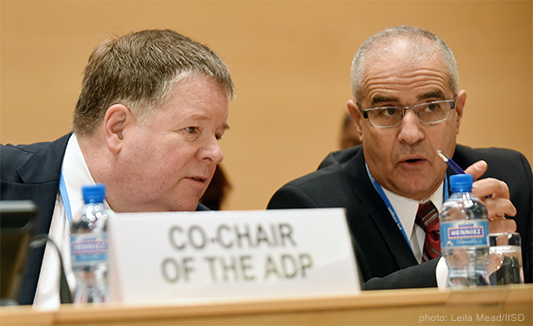 The Co-Chairs thanked all Parties for their collaboration during the Geneva session which enabled the body to immediately launch their substantive work and to successfully close the conference in a timely manner.
Letter of gratitude from the Co-chairs of the ADP
Report of the Ad Hoc Working Group on the Durban Platform for Enhanced Action on the eighth part of its second session, held in Geneva from 8 to 13 February 2015.

Session and meeting reports