TEC workshop on technologies for adaptation, in collaboration with the Adaptation Committee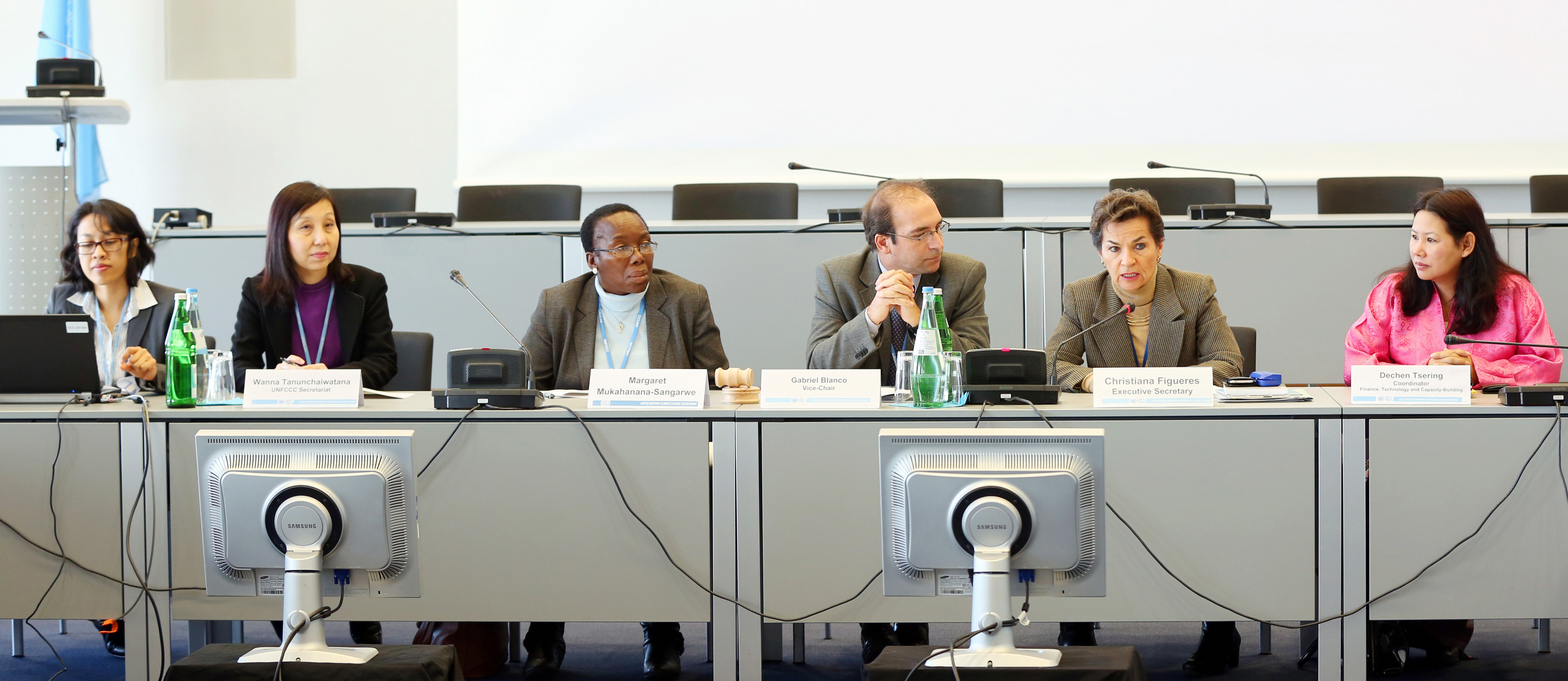 Date and venue
4 March 2014, Langer Eugen, Bonn, Germany
Photo: IISD
Mandate
In accordance with decision 1/CP.16, the TEC has the function to provide an overview of technological needs and analysis of policy and technical issues related to the development and transfer of technologies for both mitigation and adaptation. In addition, the TEC is also mandated to seek cooperation with relevant stakeholders and organisations and promote coherence and cooperation across technology activities, including activities under and outside of the Convention.

The TEC identified priority areas and specific topics for collaboration with other relevant institutional arrangements under the Convention, including with the Adaptation Committee (AC). Subsequently, the TEC established a task force on adaptation and agreed to hold a workshop on technologies for adaptation in conjunction with the 8th meeting of the TEC scheduled to be held from 5 to 7 March 2014 in Bonn.


Objectives
Share experiences and lessons learned from the development and implementation of technologies for adaptation, in particular identifying barriers to and enabling environments for the successful implementation of adaptation technologies; and
Identify potential areas of actions by the TEC and policy recommendations for the TEC to highlight in developing TEC Brief(s) that can help promote and accelerate the development and transfer of technologies for adaptation.
Documents
Reporting
Presentations
Session I: Roles of technology in adaptation – setting context and expectations
Mr. Kunihiko Shimada, TEC member;
Ms. Margaret Mukahanana-Sangarwe, Chair of the Adaptation Committee;
Mr. Vladimir Hecl, UNFCCC Secretariat;
Dr. Saleemul Huq, Helena Wright;
Session II: Experiences and lessons learned from development and transfer of technologies for adaptation
Part I: Case studies, success/failure stories, barriers and enabling factors to the successful implementation of technologies for adaptation
Mr. Yukoh Satake, Yukiguni Maitake Co., Ltd;
Mr. Nick Moon, KickStart International;
Dr. Haseeb Irfanullah, Practical Action;
Mr. Mark Kowal, Climate-Insight;
Part II: Panel discussion on Addressing gaps and challenges: How to sustainably upscale the development and transfer of technologies for adaptation
Mr. Roland Sundstrom, Global Environment Facility;
Mr. Michinori Kutami, Corporate Environmental Strategy Unit, Fujitsu Limited;
Mr. Emile Frison, Bioversity International;
Mr. Bert De Bievre, Andean Paramo Project, CONDESAN.