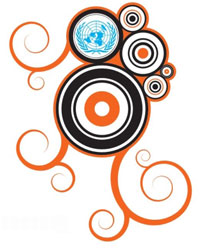 United Nations Joint Framework Initiative on Children, Youth and Climate Change (JFI)

The United Nations system recognizes the key role that youth play in tackling climate change and works closely with youth-led and youth-focused organizations around the world through the United Nations Joint Framework Initiative on Children, Youth and Climate Change.

Since 2008, the UNFCCC secretariat coordinates the work of 16 intergovernmental entities and many youth organizations to empower youth to act on climate change and enhance their climate change policy decision-making processes.

The work of the Initiative is closely linked to the implementation of Article 6 of the UNFCCC and in particular the implementation of the Doha work programme on Article 6 of the Convention.

Find useful links on International Cooperation. More >>

For more information, please contact us at youth@unfccc.int.
JFI Partners
YOUNGO: UNFCCC Constituency of Youth Non-governmental Organizations

In 2009, the UNFCCC secretariat extended constituency status to admitted youth NGOs (YOUNGO). YOUNGO is a vibrant, global network of youth activists, who contribute to shaping the intergovernmental climate change policies.

YOUNGO representatives make official statements, provide technical and policy inputs to negotiations and engage with decision-makers at UN climate change conferences.

YOUNGO's overall goal is to empower young people so that they have a voice at UNFCCC conferences, as well as to promote youth participation in climate change projects at the local and national levels.
 
YOUNGO Focal Points
Focal Points 2018
 
 

Clara von Glasow

YOUNGO Focal Point from the Global North

 Email: clara.von-glasow@gmail.com

Clara is a law student based in Germany. She is a member of the Youth Alliance for Future Energies (Jugendbündnis Zukunftsenergie) and was a member of the organising team of the 13. Conference of Youth (COY13). She has attended the Intersessional Conference SB46 as well as COP23 in Bonn and primarily focussed on the field of Action for Climate Empowerment (ACE). Clara strongly believes that youth involvement in the UNFCCC processes is of high importance as the decisions will effect the young and the future generations immensly. As YOUNGO focal point from the Global North Clara aims to support other young people to participate in our common way forward to save our own future and that of our planet.
Focal Points 2017
 
 

 

Joanna Read

YOUNGO Focal Point for the Global North

Email: joanna.read@ukycc.org

Joanna is based in the UK, and works as an environmental consultant. She has been part of UKYCC (UK Youth Climate Coalition) for 3 years, and has attended 5 UNFCCC events so far (3 Intersessional Conferences in Bonn, COP21 in Paris and COP22 in Marrakesh). She passionately believes young people should have a voice in all decision making processes concerning climate change, because the solution lies in the younger generation. Within YOUNGO Joanna has mainly been active in the working group on long term goal/mitigation taking part in YOUNGO Actions. She loves connecting with different people and being inspired by new friends taking amazing action against climate change. Joanna hopes to use the role of being the focal point for the Global North to facilitate enhanced youth participation in the fight against climate change, within the UNFCCC and beyond.

Karuna Rana

YOUNGO Focal Point for the Global South

Email: karuna.rana@syah.org

Karuna Rana is the co-founder and executive director of SIDS Youth AIMS Hub (SYAH), the first regional, youth-led organization aimed at advancing sustainable development across Small Island Developing States (SIDS) in Africa and Asia. Her extensive 7-year experience in the environmental and youth development area spans across grassroots actions, advocacy and reducing the ecological footprint of organizations - within non-profits, corporations and inter-governmental organizations alike. Through prior roles such as UNEP Tunza Youth Advisor for Africa and Organising Partner for SIDS for the UN Major Group for Children and Youth, Karuna has lobbied governments and coordinated the participation of young people at the Rio+20 Summit, the African Union and the 3rd International Conference on SIDS. In addition to her role within SYAH, Karuna is the coordinator of the Commonwealth Youth Climate Change Network (CYCN).
Focal Points 2016
 
 

 

Timothy Damon

YOUNGO Focal Point for the Global North

Email: tdamon12@gmail.com

Timothy Damon has been deeply engaged in the UNFCCC space since COP17 and his work has largely focused on championing the principle of Intergenerational Equity, which was recognized in the Paris Agreement, while also building the capacity of YOUNGO to advocate for youth policy priorities.

Miriam Carolina Somocurcio Holguín

YOUNGO Focal Point for the Global South 

Email: miriamcsh@gmail.com

Miriam Somocurcio from Cusco, Peru has been engaged with YOUNGO since COP 20 as a member of the Bottom Lining Team and the Human Rights Working Group.