The third part of the sixteenth session of the Ad Hoc Working Group on Further Commitments for Annex I Parties under the Kyoto Protocol (AWG-KP 16) and the third part of the fourteenth session of the Ad Hoc Working Group on Long-term Cooperative Action under the Convention (AWG-LCA 14) took place from 1-7 October 2011 at the Centro de Convenciones ATLAPA, Panama City, Panama The organization of the work for the third part of AWG-KP 16 was the same as for the June session, with Parties continuing to engage in the policy discussion in the contact group and in the work on the more specific issues in the spin-off groups.
The organization of the work for the third part of AWG-LCA 14 was similar to that for the June session, with Parties continuing their work on all agenda items in informal groups under the contact group. This work also took into account recommendations made at the June session for focused in-depth discussion that would facilitate progress, in particular on technical issues.

Information on Fast-start Finance submissions
The information document and the Fast-start Finance submissions from developed countries are now available on the newly-launched Fast-start Finance module of the Finance Portal for Climate Change.

Open-ended informal consultations held by the incoming presidency of COP 17/CMP 7
H.E. Ms. Nozipho Joyce Mxakato-Diseko, on behalf of the incoming president of COP 17/CMP 7, invited delegates to an open-ended informal consultation during the Panama session to solicit their views. A note from the incoming presidency provides information on the background to the consultation.
UNFCCC closing press conference - Panama, 7 October 2011

UNFCCC Executive Secretary Christiana Figueres briefs the press on the outcomes of the Panama Climate Change Conference, the last negotiating session before COP 17/CMP 7 to be held in Durban, South Africa, towards the end of the year.

View full webcast | Download podcast
Get the latest climate change news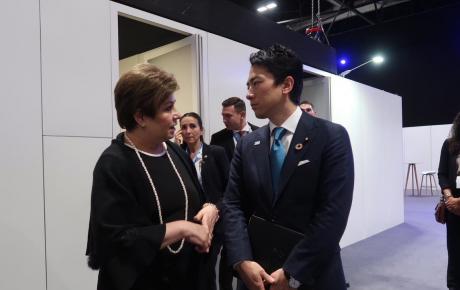 RT
@WMO
: "Let us remember this as a Blue COP." We need to increase awareness of the impact of
#climatechange
on the ocean and to harness oc…
Thank you
@WGEO_org
Chairman Saeed Mohammad Ahmad Al Tayer for your support and collaboration. Your commitment towards the
@UNFCCC
intergovernmental process and raising ambition is highly appreciated.
https://t.co/Dd91w0ZkqP