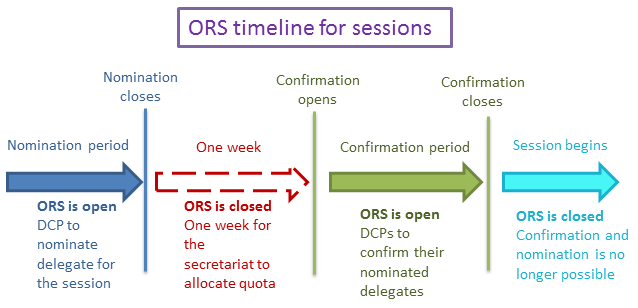 Admitted IGOs may attend sessions of the Convention bodies as observers provided that they use the Online Registration System (ORS) to nominate and confirm representatives by the set deadlines.
Notification: The secretariat's usual practice is to post official information for upcoming sessions on the UNFCCC website three months prior to the start date of the sessions. You can find current information on the Notifications page of the UNFCCC website.
Registration: ORS will open upon issuance of the notification/information note which contains the nomination and confirmation deadlines. Designated Contact Points (DCP) of admitted IGOs should use the system to nominate and confirm representatives by the given deadlines. Late nomination and confirmation of representatives after these deadlines will not be accepted.
For further information and guidance on the nominations and confirmation process and using the system, please refer to the

ORS User Manual.
For technical assistance when using the system, please contact onlinereg@unfccc.int.
For other issues relating to registration, please contact the secretariat through the communication field within the ORS.
At sessions


Making statements at the COP and CMP by the head of the organization in the context of the high level segment: If speaking slots for observer organizations are foreseen at the high-level segment, the secretariat will contact the Designated Contact Points (DCPs) of admitted IGOs that register to attend the COP. Please note that speaking slots are for the head of organization only.