Article / 08 Mar, 2017
When Women Shine
Sustainable energy access, women's rights and climate resilience are closely tied together. More than 1 billion people today live without basic electricity access, meaning our world's poor are largely dependent on inferior, expensive and dangerous forms of energy that adversely impact the environment while also leaving communities increasingly vulnerable to the effects of climate change.

Three billion people depend on open fires and inefficient stoves to cook their food. Those most at risk are rural women dependent principally on small plot farming for their income and responsible for purchasing kerosene, collecting water, and walking longer and longer distances to gather fuelwood for cooking. Indoor air pollution is responsible for more deaths annually than deaths from HIV/AIDS, malaria and tuberculosis combined.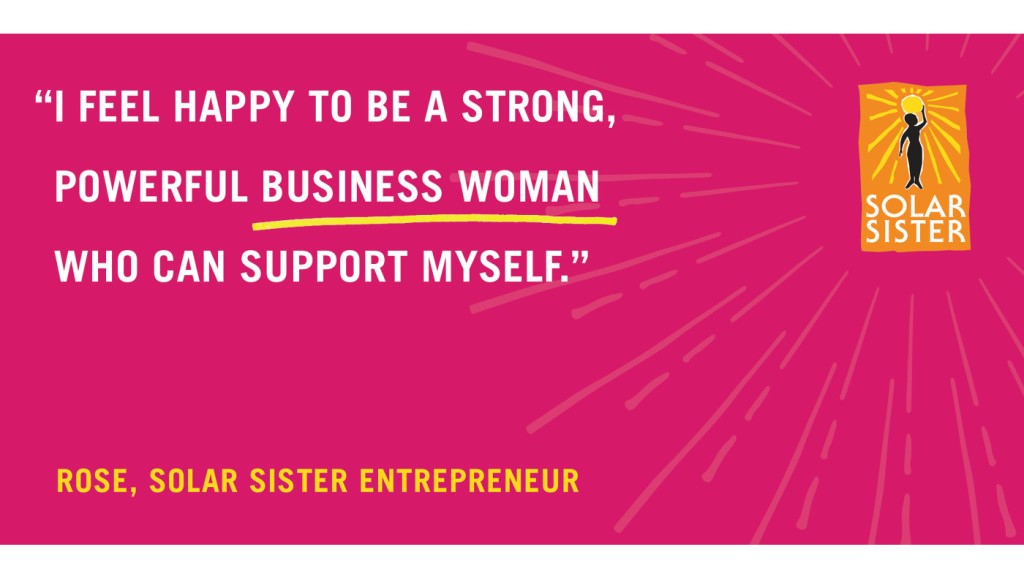 Women bring first light to the last mile

Solar Sister's women-driven approach solves the fundamental challenges that energy-poor communities on the frontlines of climate change are facing. Solar Sister -- a UNFCCC Momentum for Change Lighthouse Activity -- recruits, trains and mentors women to run small-scale clean energy businesses, providing them with an income that is not seasonally dependent. Solar Sister's network of over 2,200 entrepreneurs are running solar and clean cooking micro-enterprises in some of the most remote communities in sub-Saharan Africa that lack access to the grid and whose needs have not been met by current market forces.

These dispersed communities need increased investments in energy distribution chains, local capacity building to meet growing demands and market development in order to transition to modern energy sources. A recent study by the Global Social Benefit Institute at Santa Clara University found that 97.8% of Solar Sister's customers in Tanzania were dependent on kerosene before purchasing a solar product from a Solar Sister entrepreneur. Solar Sister calls this approach "First Light, Last Mile," which means we work to deliver solutions to the hardest to reach communities in order to help them begin climbing the energy ladder and transition away from kerosene dependence.

Climate resilience through women's clean energy entrepreneurship

Solar Sister creates a chain of positive impacts by building both women's agency which is critical for dealing with climate threats and community trust which is fundamental for sustainable adoption of climate friendly technologies. At the most basic level, this leads to mitigation of harmful emissions. Last year alone, products sold by Solar Sister entrepreneurs have the potential to mitigate over 80,000 tonnes of CO2.

Gaining access to solar and clean cooking solutions also helps rural communities cope with the impacts of climate change by reducing both time spent securing energy resources and expenditures on kerosene, cooking fuel and mobile charging. Solar Sister found that women in the program who purchased a clean cookstove were able to reduce time spent on fuelwood collection by 62%. In Tanzania, Solar Sister found that customers save on average $10.36 per month on reduced kerosene costs alone and reported decreased respiratory issues and eye irritation as a result of switching to solar.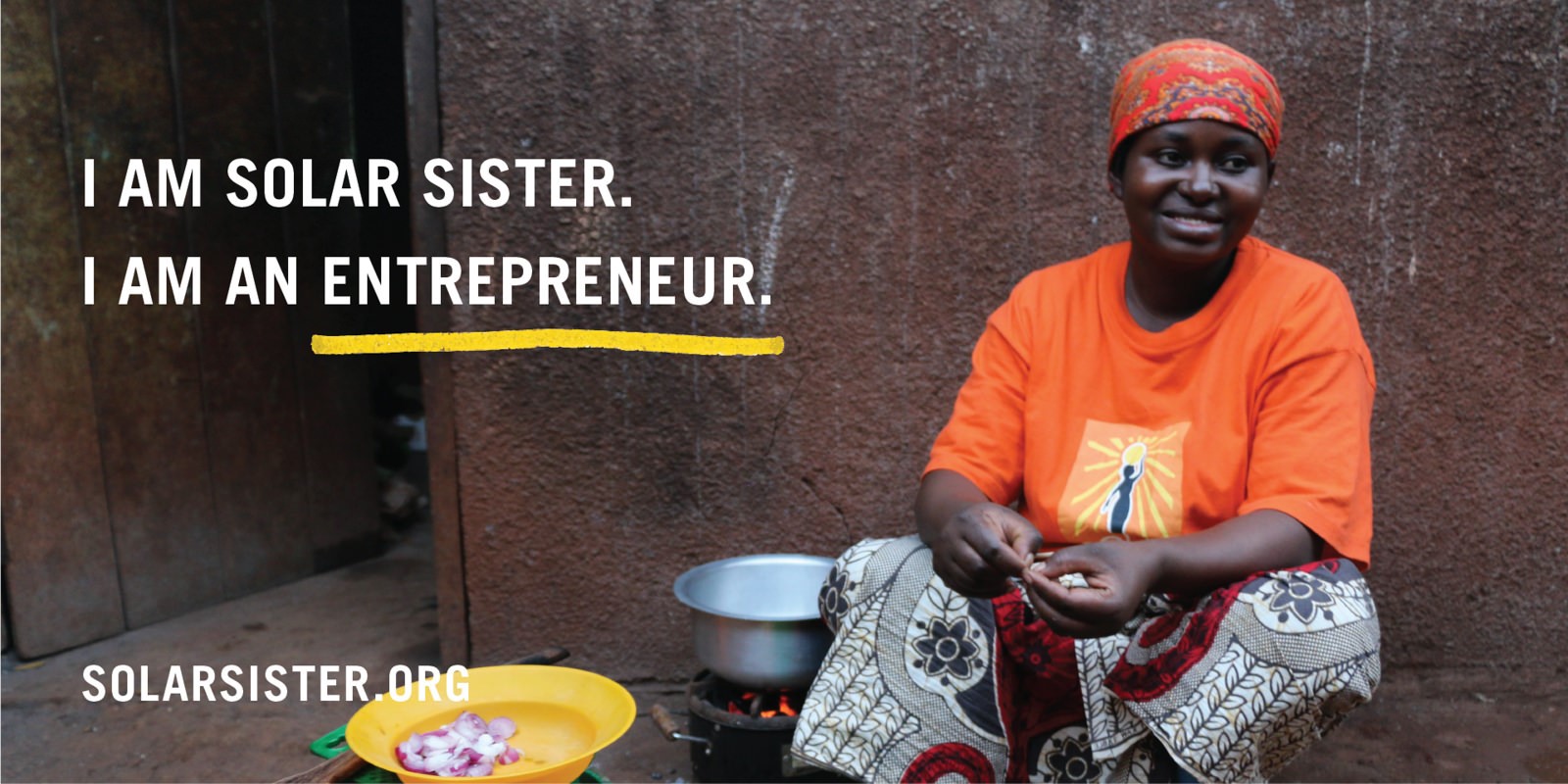 Chrecensia Shoki is a teacher in Karatu, Tanzania. She became a Solar Sister entrepreneur to bring clean cookstoves to her neighbours and friends who are dependent on firewood and charcoal for cooking. "Instead of using one bag for the whole month, now they can use one bag for four or five months." You can learn more about how Chrecensia convinces members of her village to transition to clean cookstoves on Solar Sister's WE Shine page.

Solar Sister's approach of empowering women as business owners strengthens the ability of women in rural communities to adapt to climate change. The majority of Solar Sister's entrepreneurs were dependent primarily on farming before joining Solar Sister. Farming and agricultural-related activities are becoming increasingly more difficult and high risk due to changing weather patterns and environmental pressures. By gaining access to an additional revenue stream, Solar Sister entrepreneurs are able to generate a safety net of savings and steady flow of income which strengthens their capacity to adapt to a changing environment.

According to UN Women Watch, women are especially vulnerable to the negative impacts of climate change due to their limited decision making power and mobility. In a 2015 research study on Solar Sister published by the International Center for Research on Women (ICRW), ICRW found that in Tanzania "income from clean energy businesses allows women to contribute to household earnings, gain confidence, financial independence and respect from their families and play a larger role in household decision-making."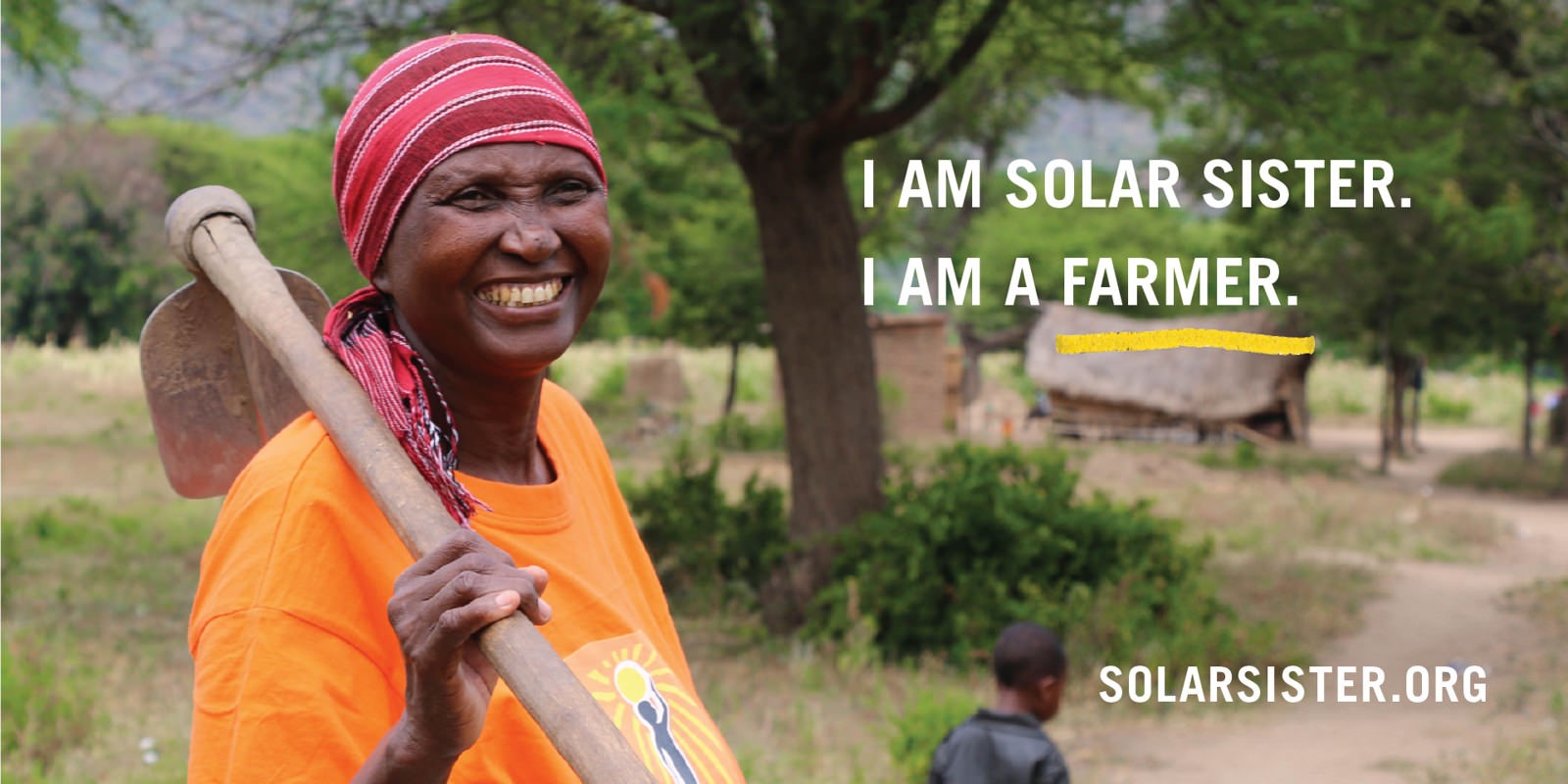 Hadija Bali (pictured above) is a Solar Sister entrepreneur and farmer. In her community, most people are dependent on either cattle or crops for their income. "The income we get first of all we keep for food. What remains is for healthcare and that is where it all ends… Once the dry season passed, that's it." Hadija notes that the members of her community are able to save from no longer buying kerosene and use the money to invest in her village's local savings groups so they can take out loans to grow their farms. You can learn more about Hadija's work to help her community switch to solar energy on Solar Sister's WE Shine page.

Advancing Women's Voices and Actions: Building a movement

This International Women's Day, as we commit to building a brighter and more gender inclusive world, let us remember the largest untapped energy in the world: women! This means recognizing, amplifying and supporting organizations like Solar Sister from across the globe working to advance women's roles as champions of light, and breaking the limiting narratives that narrowly view women as victims. Whether you are a policy maker, an investor or an individual who wants to be a part of the solution – there is something that we can all do.
This article is a collaborative effort between Solar Sister and the UNFCCC's Momentum for Change initiative.

Authors: Abigail Mackey, Grants & Impact Manager, Solar Sister and Neha Misra, Co-Founder & Chief Collaboration Officer, Solar Sister. Contact Solar Sister at info@solarsister.org

Solar Sister invites you to learn about and share the inspiring stories of Solar Sister entrepreneurs through Women +Energy: WE Shine campaign.

Are you involved in a women-led solution that addresses climate change? If so, you could be selected as a 2017 Momentum for Change Lighthouse Activity. To learn more and apply, visit: http://momentum.unfccc.int