Interview / 05 Jan, 2015
Voices From Lima To Paris: Christiana Figueres
During COP 20 in Lima we asked reporter Terry Swartzberg to reflect and look forward with some of the many delegates attending. This occasional series of articles begins with Christiana Figueres, Executive Secretary of the UNFCCC since 2010.
Question: One interesting comment emerging from COP 20 was that the negotiators working to put together a climate treaty are facing a new and very unexpected challenge – the pace of technology, which is opening up whole new ways of tracking and combating climate change – and of decarbonizing the world.
Is everyone involved in this process thus in a position to demand a lot more performance from countries, companies and other participants? Do you agree with this perception?
Christiana Figueres: I certainly do. And while it is a huge challenge for negotiators this increasing pace of technology represents an enormous opportunity for climate protection as a whole.
What is happening now in fields such as renewable energy and emissions monitoring reminds me of the past few decades in ICT (information and communication technologies), in which innovations gave rise to entire new fields of activity.
It has taken a while, but the same thing is happening now in energy and environmental technologies. This ever-greater number of new areas of innovation go by the names that include "smart metering", "smart grids", "off-grid power", "real time data profiling" and "earth monitoring".
Thanks to these, our long goal of achieving climate neutrality in the second half of the century – meaning that by then we will balance greenhouse gas emissions with the Earth's capacity to absorb them – now no longer seems impossibly utopian, as it did just a few years ago. In fact, it is now looking increasingly realistic!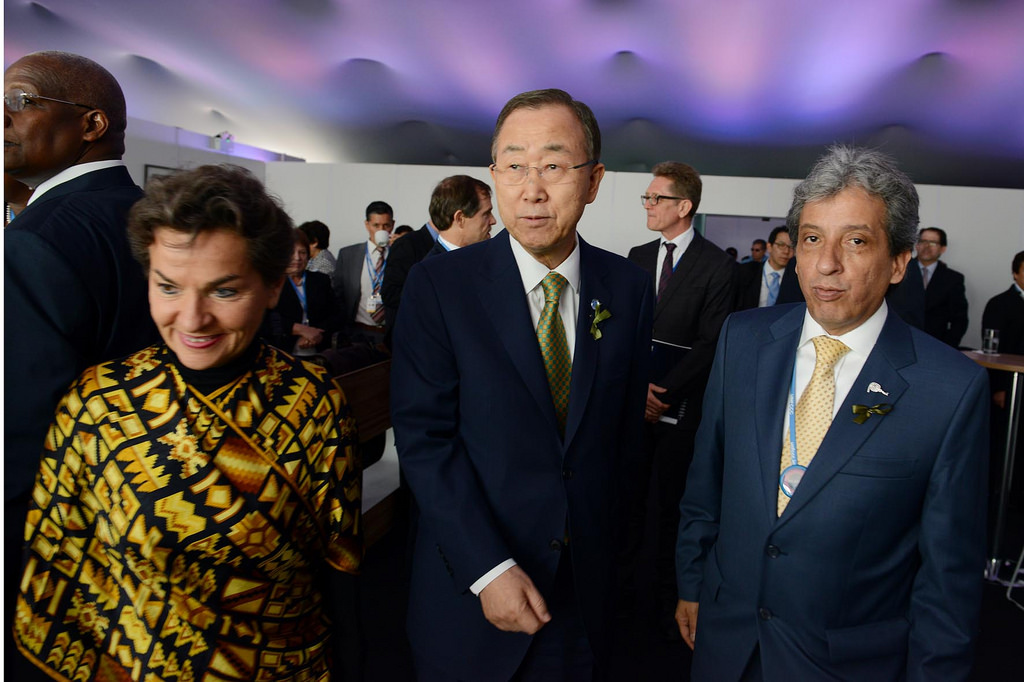 Christiana Figueres, UN Secretary General Ban Ki-moon and Peruvian Minister of Environment and COP20 President, Manuel Pulgar-Vidal.

Question: COP 20 has seemed a lot less fractious than its predecessors, which were often marked by the vociferous criticisms by NGOs and the media of the process as a whole and issues in particular.
This COP has witnessed relatively smooth sailing during its first week and a half and while it did in the end go into extra time to borrow a football metaphor, it did end on an upbeat. The credibility that you enjoy with the NGOs and the media is often cited as being the reason for this relative harmonious course of proceedings. Would you subscribe to this perception?
Christiana Figueres: I do think that many of the participants in the climate process have learned to respect and believe in each other, and that this respect expedited many of the processes in Lima.
In my case, this respect has arisen from a decision I took at the very start of my tenure at the UNFCCC, which was to engage in face-to-face dialogues with sincerity, honesty and transparency. Such dialogues afford me the opportunity to really listen to and thus understand far better other points of view – and to voice my principles in a clear and uncluttered way.
The Coal Industry Summit definitely represented a key moment. It was held in 2013 in Warsaw, at the very same as COP 19 was being staged in Warsaw. I had been invited to speak at the Summit.
In a face-to-face meeting, six NGOs asked me not to attend the Summit, saying that it would represent an implicit vote of confidence in the industry. I asked the NGOs if they were planning to use their tool of demonstrating in front of the Summit to express their concern. They said "yes", whereupon I said I had already decided to use my tool - my voice- to earnestly express my concern.
I went to the summit, and firmly and politely expressed that unabated coal has no future in the global energy system and that most of our fossil fuel reserves must be left in the ground. This was definitely a trust-builder.

Christiana Figueres and United Nations Special Envoy for Climate Change Mary Robinson 
Question: Throughout COP 20 you seemed as well-rested and sparkling as if you had previously been on a lengthy vacation – which you, of course, haven't been at all. Your schedule has been chocked filled all year with climate summits, meetings and other public events.
Even by your own legendary standards, this has been an amazing display of energy. Where does your drive come from – the excitement of now having the "wind in our sails" - of witnessing momentum building for climate protection, or is there another, more prosaic source?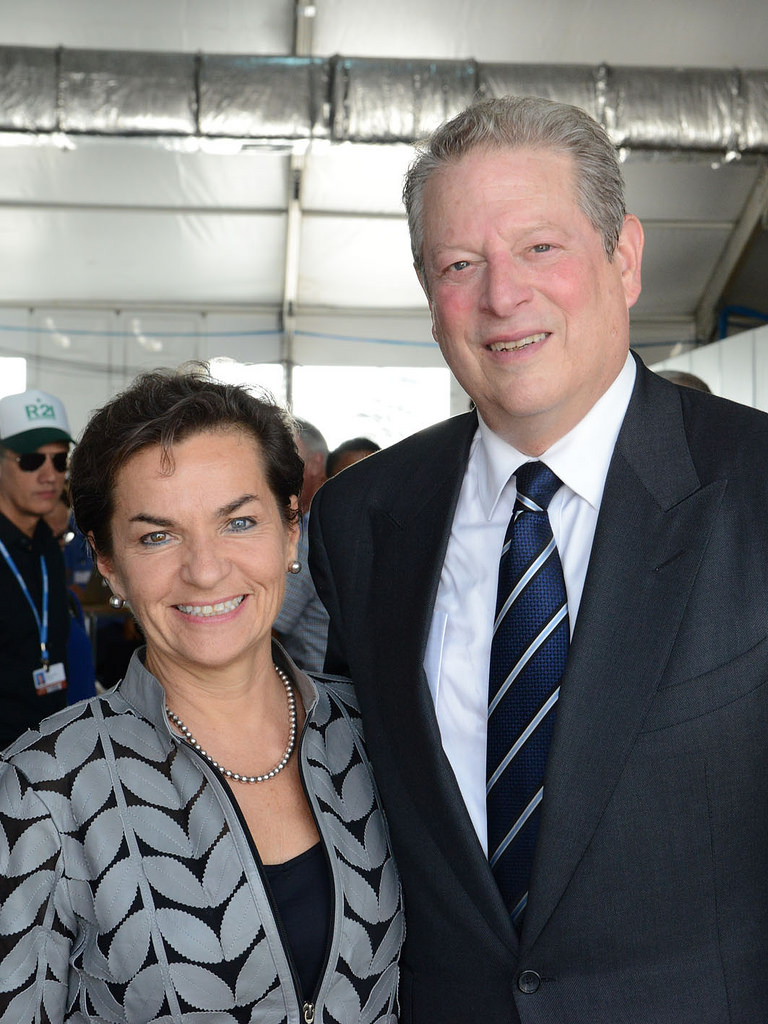 Christiana Figueres: I don't know about "prosaic", but I do – like most people – make sure to keep physically and mentally fit. Whenever I can find the time, I jog, I meditate.
But the "wind in our sails" has definitely given me and the many thousands of people showing such dedication in working to save the climate, a very visceral boost. To understand why it is so powerful, you have to think back five years to the dark days after COP 15, which had been held in Copenhagen, and which had left the process of saving the climate seemingly in a state of disarray and despondence.
We were also shaken by the results but we quickly decided that we had the responsibility to transform the global mood on climate change. We have been planting the seeds of possibility and optimism since then. And now, five years later, we see those seeds starting to blossom. Much work remains to be done before we can reap a good harvest. But we are clearly moving in the right direction, and this is being increasingly and broadly recognized.