Meeting / 25 Aug, 2014
Major UN Conference on Health and Climate
There is an inextricable link between human health and climate change. The Intergovernmental Panel on Climate Change's March 2014 report updated the evidence on the significant health risks of climate change, while estimates released by the World Health Organization (WHO) in March this year show that air pollution is estimated to cause one in every eight deaths worldwide.
The direct solutions to climate change - cutting pollution and strengthening the resilience of societies to extreme climate impacts - bring large, immediate health benefits which grow as the response to climate change grows.
Health and climate change is the focus of a landmark international conference organized by the WHO taking place in Geneva, Switzerland, from 27-29 August 2014. UN Framework Convention on Climate Change (UNFCCC) Executive Secretary Christiana Figueres will give a keynote speech at the conference on 27 August. Ms. Figueres says that:
Climate change is not a disease. Climate change is the symptom. The disease is humanity's unhealthy dependence on fossil fuels, deforestation and land use that depletes natural resources.
The conference brings together health, climate and sustainable development professionals to:
Discuss how to enhance resilience and protect health from climate change;
Identify the health benefits associated with reducing greenhouse gas emissions;
Support health-promoting climate change policies.
Health Impacts of Climate Change
Extreme weather events such as tropical cyclones, floods and droughts claim many lives worldwide and heighten the transmission of diseases each year. Cardiovascular and respiratory illnesses from urban air pollution also cause the death and illness of many people. The proliferation of communicable water-borne and vector-borne diseases, due to favourable conditions particularly triggered by climate variability, result in a huge cost to society and the economy. Several scientific studies over the past decade have also warned that severe epidemic diseases, such as bird flu, cholera, plague and Ebola, could become more frequent due to the various impacts of climate change and the human activities that drive it.
Read WHO's 10 Facts on Climate Change and Health.
Countries with weak public health systems, many of them in Africa, are at particular risk as this graphic shows: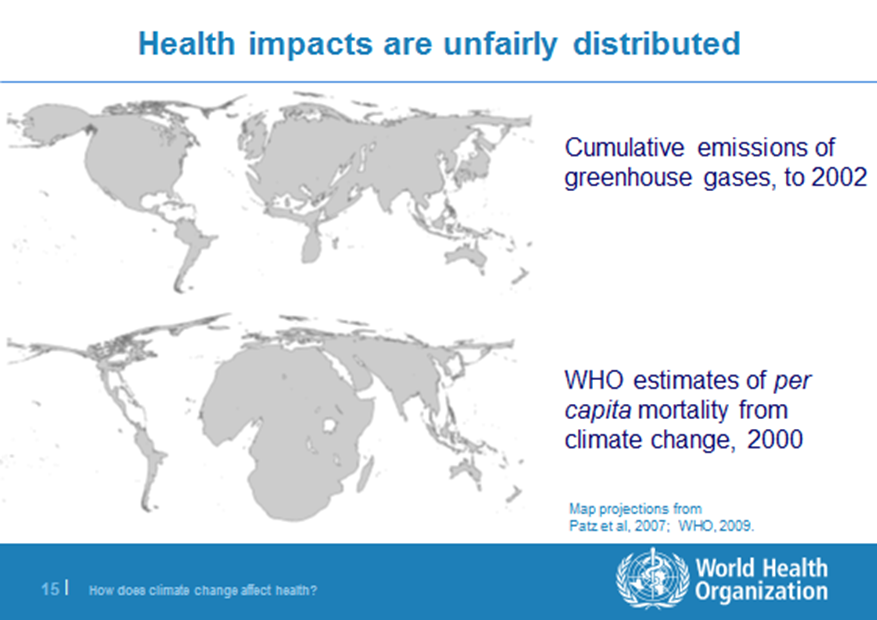 Tackling Climate Change Benefits Health
WHO Director-General Margaret Chan says:
While the climatic effects of mitigation measures are long term and dispersed throughout the world, the health benefits are immediate and local.
Some health benefits of measures to reduce carbon emissions at a glance:
Sustainable urban transport could cut heart disease and stroke by up to 20%;
Improved cooking stoves could save 2 million lives over 10 years in India alone, while reducing warming from black carbon;
Health benefits from actions to reduce greenhouse gas emissions could substantially offset mitigation costs.
Crucial Role of Climate Change Policy
Policy leadership on a major scale will be needed to address the dual challenge of climate change and its health impacts. Underlining this fact, Christiana Figueres said:
With so much at stake, we must take a holistic approach to leadership. Health ministers fully aware that climate action keeps people healthy must stand with foreign ministers and ministers of environment in support of strong climate policy. They must be joined by ministers of finance and defence and energy and labour and transport in support of a rapid, immediate shift to low carbon… and in support of a strong climate change agreement in Paris in December of 2015.
Health management is high on the agenda at UN Secretary-General Ban Ki-moon's Climate Summit on 23 September 2014. Managing the health impacts of climate change will also feature prominently in discussions at Climate Week taking place in New York City prior to the summit. 
The UN Acting as One 
The UN system assists vulnerable countries in monitoring, analyzing and addressing climate and health challenges. In addition to the WHO, other organizations actively involved include the World Meteorological Organization, (WMO), World Food Programme (WFP) and the International Federation of Red Cross and Red Crescent Societies (IFRC).
The UN also serves as Secretariat for the Climate and Clean Air Coalition to Reduce Short Lived Climate Pollutants, which combines over 50 national, multilateral and non-governmental partners to reduce pollutants that impact climate and health.