Initiative / 07 Apr, 2017
Bringing Climate Action Art to Asian Wetlands
This article is the latest in our series #Art4Climate, a joint initiative by the UNFCCC secretariat and Julie's Bicycle on the work of artists who make the issue of climate change more accessible and understandable by featuring it in their work.
Each Spring, plant life – and artworks! - bloom in the wetlands of Cheng Long, in Taiwan, Province of China. For a couple of months, art installations made out of bamboo and shells help raise awareness about environmental issues, including climate change. The artworks, made of natural materials, are then left to disintegrate, only to be rebuilt and brought back to life the following year – almost like in the cycle of nature.
Begun in 2010 – and with the next event taking place this April - the Cheng-Long Wetlands International Environmental Art Project has contributed to the environmental education of numerous children and villagers in Cheng Long, in rural Yunlin County, on the South-central coast.
International and local artists are invited to stay in the village for about 25 days and work with children from the local elementary school to make environmental sculpture installations using locally sourced materials, such as reeds, drift woods, bamboo, oyster and clam shells, as well as recycled materials taken at the recycling center. The artworks are specifically designed for the out-door sites they are located in.
"Invasive Species", by Roy Staab (USA), made of oyster shells and bamboos: the geometric pattern of the bamboo poles reminds viewers of the form of a fish
The project is in a certain way helping locals to cope with impacts of climate change that have been felt in Cheng Long for over 25 years, putting pressure on the local economy. Crop farming has become impossible due to the sinking of land and saltwater intrusion. With more water coming in every year, former rice fields have been transformed into fish farms and a nature preserve area has been created. Jane Ingram Allen, curator and manager of the project, says she has noticed that the climate has become more extreme, with more frequent and bigger typhoons that bring too much rain, alternating with periods of drought.
Taking Pride in Wetlands
The arts initiative has brought numerous benefits to the local community. It has enabled residents to show off their village and to meet visitors from other areas and even other countries. The community has started to taking pride in the wetlands. This has changed their perspective – they now see wetlands not so much as a risk factor but as an asset.
"The art project brings attention to the plight of this area. It also gives some subtle hints at how to live with the wetlands that have taken over the former farmlands by making houses rising above the water on stilts, or floating platforms or growing salt tolerant plants and by increasing tourism to bring visitors to see the beauty of the wetlands and learn about all the birds and creatures now making it home," Jane Allen says.
Hints of this can be seen in some of the earlier artworks, consisting of impressive structures emerging from the wetlands.
In 2015, the artist Roger Rigorth, from Germany and Switzerland, used bamboos and sisal rope to build flexible structures resembling bottles in the wetlands. The idea was to create symbolic vessels to hold water, containing the water's spiritual soul. The shape of the vessels is that of fruit cores.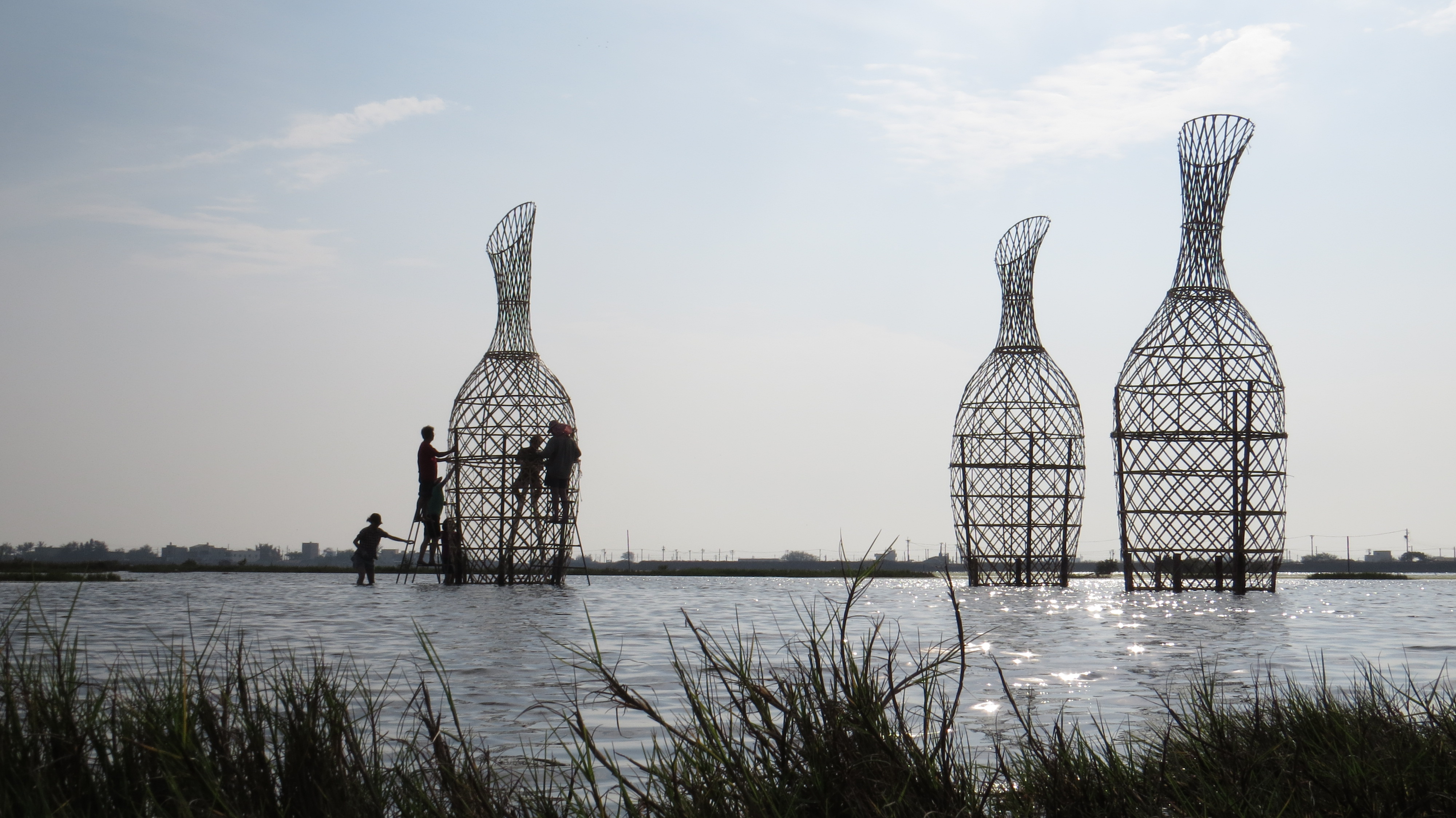 "Water Core", by Roger Rigorth (Germany/Switzerland), made of bamboo and sisal rope
"The core is like what is left when you eat an apple; the core contains still the most important thing, the seeds. This is my symbol for this planet, the apple. Many people still think we have the whole apple, but for me it feels like there is not much more left than this core," Rigorth says.
This year, Rob Mulholland, from Scotland, will likewise use bamboo to create a large cube-shaped sculpture, with its center visually disintegrating. Titled "Delicate Balance", it represents the constant change in the relationship between people and the environment.
Art Event in April to Raise Awareness About Climate Change
With the theme "Take Action - Live with Change", this year's art event takes place from April 13 to May 8, and aims to raise public awareness about climate change and to show how people can take action and not just passively accept what is happening.
Although the artworks are ephemeral and naturally biodegrade, Allen feels that they are already having an impact, and that this impact will be durable and inspiring for people who come to see the project. "Now I see many more living plants and gardens for vegetables around the village houses, and things in general look much better," she says.
According to her, the importance of art in fighting climate change is mainly to bring more attention to the issue and start people thinking about solutions.  
"Usually artworks don't solve the problems or make concrete changes, but they can change thinking and make more public the dialogue about environmental issues", she says. "Wetlands are vital parts of the environment and the Paris Climate Change Agreement is a big step in starting to make concrete, positive changes, also for the wetlands," she adds.
The Cheng-Long Wetlands International Environmental Art Project is part of the environmental education program of the Kuan Shu Education Foundation that fosters environmental education.
Land subsidence in Cheng Long, with old wire poles soaked in water
(Banner photo pictures the artwork "Earth", by Marisa Merlin)
#Art4Climate is a joint initiative by the UNFCCC and Julie's Bicycle to spot and propose super recent and new works in this broad field, but we also want to hear from you! Please send any proposals for showcasing to newsroom@unfccc.int or Chiara@juliesbicycle.com.
Please amplify our web posts with Twitter hashtag #Art4Climate and #COP23!