Article / 03 Jun, 2015
Bonn Expert Meeting on Renewable Energy Supply - Faster Action Needed for 2°C Goal
Experts meeting in Bonn, Germany, said on Wednesday that the internationally agreed goal of a maximum 2 degrees Celsius global average temperature rise is still within reach, but only if renewable energy supply is swiftly and massively increased.
At a Technical Expert Meeting during the Bonn UN Climate Change Conference, governments and key stakeholders on 3 June discussed renewable energy supply as one of the most promising ways to increase immediate ambition to tackle climate change before 2020, the year that the new Paris 2015 climate agreement is to enter into force.
Speaking at the opening of the meeting, Thomas Spence of the Institute for Sustainable Development and International Relations (IDDRI) said that according to the analysis of his institute, a climate neutral world in the second half of the century is possible, but that the challenge of avoiding a 2 degrees Celsius future would soon become insurmountable without adequate climate action:
Deep decarbonization of global energy systems is technologically and economically feasible, but requires immediate and strong action. We are now seeing the fruits of policies of the last few years. But the time-frame to act is getting shorter.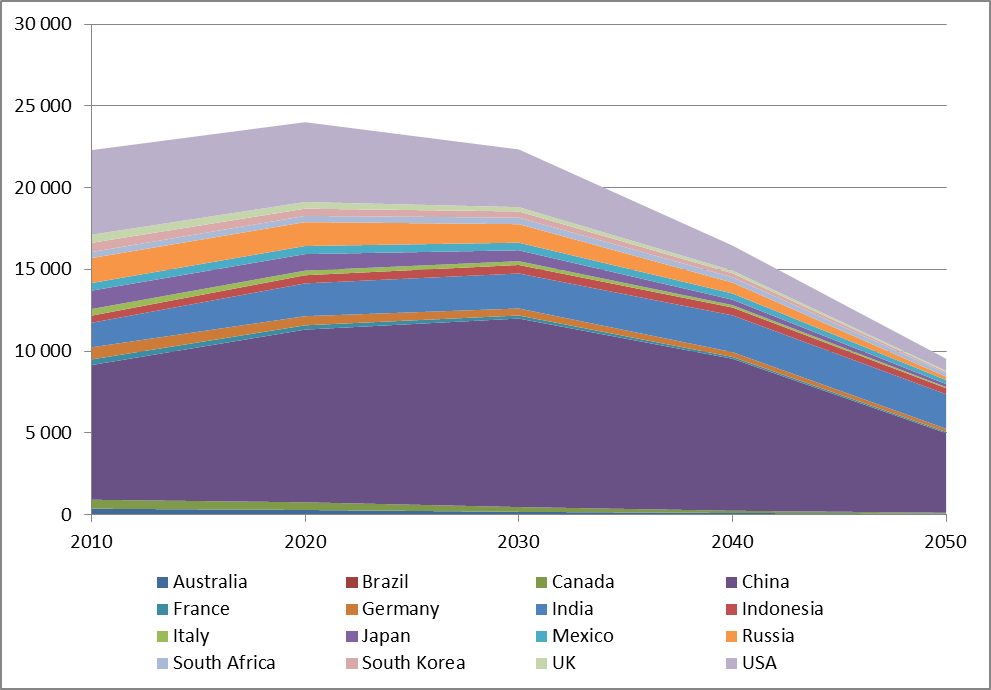 Chart by IDDRI showing energy-related emissions reduction trajectories of 15 major economies with adequate renewable energy supply
Speaking on behalf of the Renewable Energy Agency (IRENA), Angela Churie Kallhauge said a doubling of the world's renewable energy supply by 2030 could lead to a reduction of 8.6 Gigatonnes of heat-trapping carbon dioxide.
Together with savings of 7.3 Gigatonnes of CO2 through energy efficiency, this would allow the world to stay below 450 parts per million global average CO2 concentration in the atmosphere, in turn enabling the international community to achieve its of goal of a maximum two degrees rise.
Angela Churie Kallhauge is cautiously optimistic about the prospects of reaching this goal, not least because many experts have until recently under-estimated the potential of renewable energy.
A few years ago, people said it would take time for renewable energy to penetrate the market. But what we have found is that because of technology breakthroughs and policy developments, things are moving faster than expected.
Ms. Churie Kallhauge said that investment in new renewable energy capacity had outpaced investment in new fossil based power generation over the past 3 years. And that 7.7 million people were meanwhile employed in the renewable energy sector, with that figure expected to grow to at least 16 million by 2030.
Both for IRENA and IDDRI, finance is front and centre to ensuring that renewable energy supply is scaled up quickly enough.
According to IRENA, annual investment of USD 650 billion in renewable energy supply would be required by 2030 to achieve a reduction of 8.6 gigatonnes of CO2. By contrast, fossil fuel subsidies still stood at USD 548 billion in in 2013, underling the immediate need to remove them as soon as possible.
Investment and Business Interest in Renewables on the Rise
Angus Crone, from Bloomberg New Energy Finance (BNEF) highlighted that investments in renewable energy are accelerating, thanks to improvements in technology and decreases in costs.
According to BNEF, 2014 saw global renewable energy investment of $310 billion, up 16% over the previous year. Further increases in investment are set to make renewable energy technologies more cost competitive, and more technological advances will further drive down costs.
For example, the "Levelised Cost of Electricity", which measures all costs associated with power generation, has already decreased 60% for thin-film and crystalline Solar-PV since 2009. Over the same period, the cost of onshore wind generation has fallen by 15%.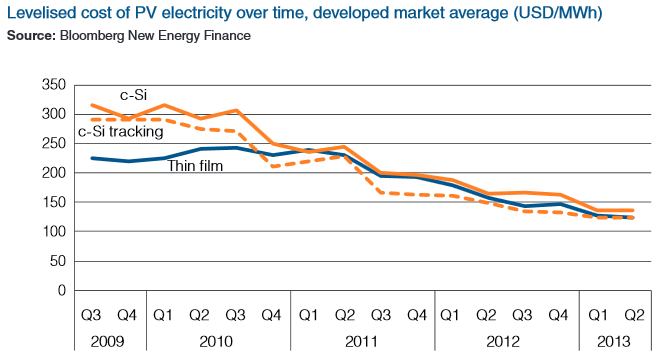 Finally, Ed Cameron of We Mean Business, a coalition that supports the action of the world's most influential businesses and investors, said that business was starting to understand that switching from fossil fuels to renewable energy sources makes a positive difference to their bottom line.
So the world can look forward to many more investments from the private and public sectors, but this needs to happen fast enough, and at adequate scale.