Image: IISD
What countries intend to do in future to deal with climate change and its impacts - and to the best of their different abilities - is a critical part of the work under the ADP.

Efforts to begin defining these nationally determined contributions towards the new, 2015 Paris climate change agreement got underway in Bonn during a Tuesday workshop dedicated to this important issue. The workshop provided a space for Parties to share experiences and learn from each other on approaches, processes, constraints and challenges, including on different needs for support, in preparing their contributions. The presentations on the contributions can be found here. View webcast.
Following the workshop, Parties also continued their discussions on the nature of contributions, as well as on the information that needs to be provided when contributions are put forward before March 2015. The discussion was constructive, with Parties initiating important exchanges aimed at reaching a mutual understanding on the scope and nature of contributions. This exchange continues Wednesday.


Image: RTCC

Parties also continued their discussions on further elaborating elements for a draft universal climate change agreement, which needs to be ready by the next major climate change conference to be held in Lima at the end of this year.
Meanwhile, crucial work continued on finding ways to raise ambition before the new climate change agreement enters into force in 2020. In Tuesday's latest technical examination process, which will continue beyond the current session, Parties focused on renewable energy. Several Parties and multilateral agencies gave presentations on what they are doing in this area, and there was a rich discussion on the opportunities and barriers to more action. View webcast.
The International Renewable Energy organization IRENA pointed out that renewable power generation is increasingly becoming more cost competitive, and that investments in clean energy significantly increased from USD 55 billion in 2004 to USD 319 billion in 2011. IRENA pointed out that the dip in clean tech investments in 2013 was partly due to policy uncertainty and the increase in shale gas production, but also due to the fact that the costs for renewables has significantly dropped, so more can be built for the same price.
With renewable energy, developing countries can also achieve their sustainable development objectives. The UN's Sustainable Energy for All initiative presented its platform to harmonize the many initiatives that are already on the ground. It also mentioned the need to scale up renewable energy investment through public-private partnerships. Several other agencies, including the World Bank and the Global Environment Facility, showcased what they are already doing to boost renewable energy. See all the presentations here.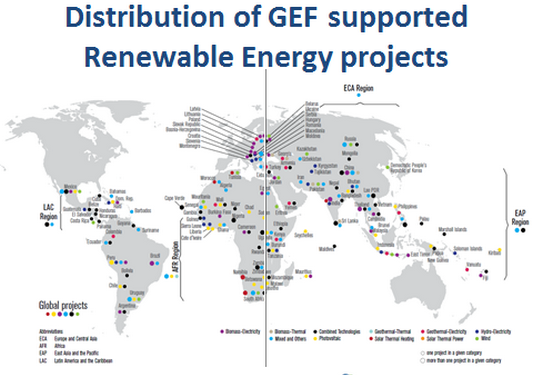 Image: GEF

Local governments are instrumental in getting climate action going on the ground through various city initiatives, many of them voluntary. ICLEI (Local Governments for Sustainability) presented the world's largest global database of local climate action. ICLEI underlined the need for central policy effort to match direction to local effort, noting that there are limits to what most cities can achieve on their own because they, for example, often do not have the mandate for setting energy policy.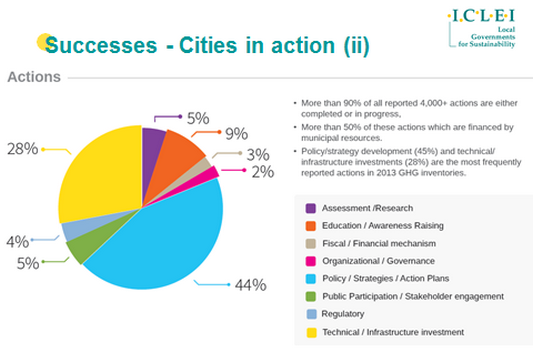 Image: ICLEI
Several Parties and organizations pointed to the need for more tools that help countries prepare bankable proposals to access financing for renewable energies. IRENA is currently designing a Project Navigator to help facilitate this effort, and the UNFCCC secretariat will in the future play a more active role in collecting information and presenting relevant information. Interested Parties and organizations have begun uploading relevant material for the technical expert meetings on renewable energy and energy efficiency, and uploaded material can be found at a virtual expo on the UNFCCC website.
Wednesday sees the launch of the second part of this technical examination process that aims to assist Parties in raising ambition before 2020 through increased energy efficiency measures.