ChargePoint Electric Vehicle Charging Corridors | United States of America
ChargePoint, the world's largest electric vehicle (EV) charging network, is transforming the transportation industry by providing the charging stations, mobile app and the network that allow people to charge their cars everywhere they go. Its smart-energy management solutions help people and businesses shift from fueling with gasoline to fueling with electricity. With over 25,000 charging spots across the country and by adding up to 100 charging stations in "express charging corridors" on the east and west coasts of the United States of America, drivers can easily connect to a network of EV chargers, accelerating the transition away from fossil fuels.
Key facts:
ChargePoint is the largest, and most open EV charging network in the world, with more than 25,000 spots to plug-in and charge
ChargePoint stations have delivered more than 12 million charging sessions and 88 gigawatt hours of energy
ChargePoint has enabled EV drivers to avoid more than 35 million kilograms of CO2 and 41 million litres of gasoline, while driving more than 430 million gas-free kilometres
The ChargePoint mobile app allows drivers to find available stations, start a charging session, check charging status and view their charging history
The problem
Across the United States of America, transportation is responsible for 27% of all greenhouse gas emissions; in California, the percentage is even higher, at nearly 40%. The more electric vehicles on the road, the fewer greenhouse gas emissions will be produced.
With more than 350,000 EVs sold in the United States, EV owners need more charging flexibility while on the go. Because of limited EV ranges and a lack of fast chargers, drivers have so far been unable to engage in long-distance travel.

The solution
ChargePoint, together with BMW and Volkswagen, is creating ICT-enabled express charging corridors to provide EV drivers access to fast chargers along the most heavily populated and highly trafficked regions on the east and west coasts of the United States.
The fast chargers allow EV drivers to "gulp" energy when needed, similar to the way a traditional driver fuels his or her vehicle. Providing the flexibility to engage in this kind of EV charging eases the transition from fueling with gasoline to fueling with electricity.
Each fast charging location along the express charging corridors will include up to two 50 kW DC Fast chargers, or 24 kW DC Combo Fast chargers with the SAE Combo connector, used in both BMW and Volkswagen electric vehicles as well as many other electric vehicles. Those chargers can bring a vehicle up to 80% power in less than 30 minutes.
As part of the ChargePoint network, drivers using the express corridors will be able to use a mobile app that allows them to find available stations, start a charging session with just one tap, get real-time updates about charging status and view charging history. Because the Fast Chargers along the express charging corridors are all networked, drivers will be able to easily navigate to other chargers based on their need, availability and schedule flexibility.
As more and more people transition to fueling with electricity, the accessibility of ICT-enabled fast chargers allow people to integrate EV driving into their regular routines. Once drivers make the switch to driving electric, many find that the cars – in addition to yielding lower greenhouse gas emissions – are also better vehicles with more advanced features and technology. This evolution not only represents a significant shift away from fueling with gasoline, but it also enables more intelligent energy management solutions now and into the future.
Helping the planet
Enabling EV drivers to engage in long-distance travel virtually eliminates the need for traditional gasoline. The express charging corridors not only benefit EV drivers, but their ability to support widespread EV adoption. As more EVs replace traditional vehicles, greenhouse gas emissions from transportation will continue to fall.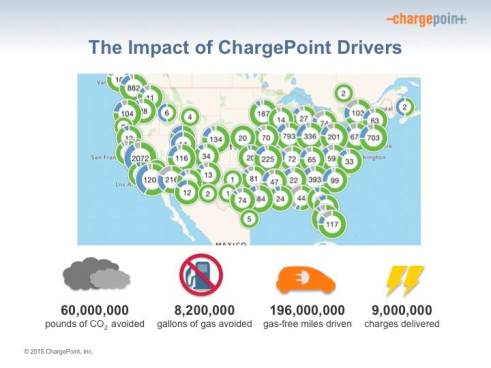 Helping people
ChargePoint reduces "range anxiety" – one of the largest barriers to EV adoption. The express charging corridors will create "range confidence" and facilitate long-distance EV travel. The ability to start and stop charging remotely and to chart a path to the next fast charger also make it easier and more convenient to integrate long-distance electric driving into an EV owner's regular lifestyle. This reliability helps overcome the barriers to EV adoption.
Spillover effect
Increasing the density of these express charging stations – particularly in response to increased EV adoption – can have an even greater impact on driver behavior and EV adoption. Just within California, for example, the National Renewable Energy Laboratory estimates that as many as 775 Fast Chargers could be needed by 2020 to support robust EV growth.
Although the main beneficiaries of the express charging corridors are current EV drivers, the project has the potential to increase EV adoption by reducing barriers that make it difficult or impractical for people to make the switch to fueling with electricity.
Images owned by the activity partners, all rights reserved.