Momentum for Change Recycling Municipal Waste through Biogas Production and Composting Project
---
Focus area: Mitigation
Website
Location: Kathmandu, Nepal
Established: July 2009
---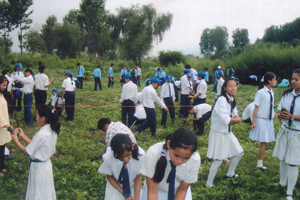 In 1990, a group of sixteen women from Lalitpur, Nepal started collecting waste from the neighboring 50 households. This activity lead to the establishment of the organization called Women Environment Protection Committee (WEPCO). By 2004, with financing from SGP, waste collection expanded to 1000 households.

The activity was able to adopt a strategy in managing waste at source (within households) and further increase the number of households involved.
WEPCO demonstrated that the conversion of waste to biogas is an innovative way to reduce waste and generate energy, thereby reducing demand. This community-based activity has not only provided environmental benefits but socio-economic as well: awareness-raising and training, particularly young people and generation of income, improving the livelihood of the members of the community.

The activity finished in March 2006.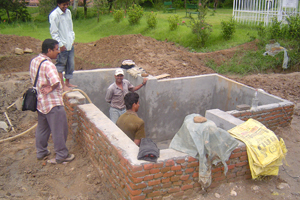 Mitigation / Adaptation

Social and environmental benefits

Potential for scaling-up and replication

WEPCO collected 6.5 tonnes of waste daily whereas 0.5 tonnes of waste is managed at household level. Out of 6.5 tonnes, 4 tonnes of waste are dumped in the municipal container and 2 tonnes of waste are used to produce compost. The remaining 500 Kg of waste, which is plastic (300 Kg) and metal (200 Kg), are recycled. Thus, each year the activity recycled 912.5 tonnes of solid waste. In addition, WEPCO also collected 72 tonnes of waste paper per year, of which 70% are recycled. Therefore, the activity was able to manage 962.9 tonnes of waste per annum which would otherwise go to the landfill sites.

The successful demonstration of biogas production from waste and participation of major stakeholders such as students, private sector (through green circle) and households resulted to a daily reduction of 3 tonnes of waste, making WEPCO the lead training and resource centre for solid waste management. More than 50,000 visitors have visited the demonstration site since its establishment. 43 eco-clubs at different schools compromising more than 500 students have been established. Likewise, a biogas plant established in Budhanilkantha School is being used in cooking food for students and staff, and has cut down their dependence on liquefied petroleum gas significantly.

WEPCO has also established a cooperative consisting of 496 female members, collected USD 85,954 from microloans and mobilized USD 123,924 benefiting 150 women members.

The activity created jobs: 27 full time staff and 9 part time staff, including 3 full time and 5 part time experts in solid waste management and biogas construction. WEPCO generates a monthly average income of USD 3,000 taken from membership fees; sales from recycling and composting; and renting the training premises. This amount is used for personnel and other operations.

Prior to using biogas, the Shenchen Monastery, used firewood to cook food and spent nearly USD 1,000 per month. The firewood was later replaced by liquefied petroleum gas, diesel and kerosene boilers and biogas, of which the monastery was able to save 50% of its expenditure. Calculating the amount invested on the biogas plant vis-a-visa the cost of liquefied petroleum gas, a return of investment on the biogas plant is received within a span of 9 months. Thus, the benefits exceed the cost.

Replication of this activity is very easy. Land for composting and permission from the government to manage the waste are prerequisites for the activity, in addition to sensitizing local communities to segregate waste at household level. Once these basic requirements are fulfilled, it is possible to replicate the activity in different context and country.

An additional component necessary in successful replication is the planning for construction of the biogas plant: size should be considered depending on the amount of waste, purpose of cooking (commercial or household only), and user expectation.

The biogas model in the WEPCO premises has been seen due to the large number of visitors that WEPCO receives annually: study tour, training, Eco Clubs, etc. So far, the biogas plant from solid waste has been replicated in 20 other sites. Furthermore, WEPCO was able to mobilize participation from 892 women in 30 groups in various parts of the country.
Images owned by the activity partners, all rights reserved.