Momentum for Change: Capacity building of Shirak marz communities
Focus area: Mitigation
Website
Website
Location: 15 households and 3 public service facilities located on the first floor of the pilot building, Shirak region, Armenia
Established: September 2009
In the mountainous town of Artik, 1,780 meters above sea level and with a population of 18,000, a community located in the Shirak region piloted a residential building activity aimed to combat climate change. In particular, the activity sought to help Artik's local authorities and housing administration to build their capacity to deal with climate change by piloting the use of renewable energy and energy efficiency practices in apartment buildings in and around Artik. As a major energy consumer, Armenian households are facing challenges satisfying the growing energy needs given that Armenia is dependent on foreign oil without domestic sources of fossil fuel.
However, the country has an immense potential for the development of alternative energy resources and energy efficient (EE) technologies. In partnership with the activity implementing NGO, the Artik community and partner organizations, the GEF Small Grants Programme (GEF SGP), implemented by UNDP, has provided US$ 30,970 to support this activity. The ongoing initiatives taken by the pilot activity include building renovation and insulation works, particularly installation of EE doors and windows, an EE lighting system in the stairwells, and the installation of a solar heating and hot water system.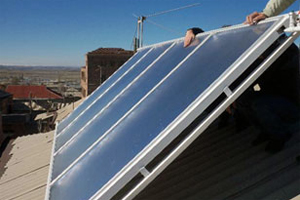 Another notable component of the activity is that it has provided training on cost-effective ways to improve building energy efficiency and operation through the application of BEEP-1.0 (a specialized computer software). Based on the demo building model, the activity envisaged the development of a certificate on the energy index, which is a draft technical document on energy consumption in buildings. The activity also developed a BEEP-1.0 guidebook in Armenian as well as other knowledge products, which are widely disseminated throughout the country.
During the 2009-2010 heating season, consumption of natural gas by residents dropped by 40%, and electricity use was reduced by 10% when compared to the year before. In terms of global environmental benefits, it is estimated that such savings result in a reduction of about 5 tons of CO2 emissions during this season. Regarding the financial viability, the activity ensured a cost recovery of 8% due to the substantial savings in natural gas and electricity by March 2010. At the end of the activity in August 2010, the cost recovery index reached 15%. The overall expenses will be recouped in 7 years, while the reduction of CO2 emissions will reach about 62 tons within the same period.
The pilot building has become a demonstration site attracting the nearby residents to familiarize themselves with the innovative EE technology in practice. The activity provides practical opportunity for authorities and decision makers to improve the current construction norms and standards in a new way. The activity was originally replicated in the kindergarten of the Sevkar community in the Tavush region and is now also being replicated in other households in the area.
Images owned by the activity partners, all rights reserved.