Action towards Resource-efficient and low carbon cities in Asia
Focus area: Mitigation; Adaptation
Website:
Location: Various cities in Lao PDR, Sri Lanka, Thailand and Vietnam
Established: December 2009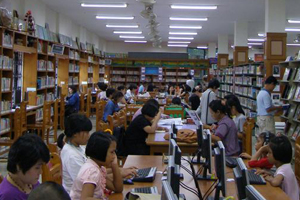 The Asian Institute of Technology with support from the French Environment and Energy Management Agency (ADEME) initiated Action towards Resource-efficient and Low Carbon Cities in Asia" to promote activities towards low carbon society through improved resource efficiency and environmental sustainability in ten small and medium cities in Asia. The activity also aimed to strengthen the capacity of these city authorities (and local institutions) and other stakeholders in climate change mitigation and adaptation.
The activity conducted training on the estimation of greenhouse gas emissions of direct and indirect activities at the city level, carried out research on issues related to the GHG emissions at city level, initiated the development of city level climate and energy plan, conducted small scale pilot activities on mitigation and adaptation involving locals, and shared experiences among cities through field visits and workshops. Action towards Resource-efficient and Low Carbon Cities in Asia made important contributions in sensitizing the city level policy personnel (mayors, councilors, etc.) on the impacts of climate change, and the need to take actions (at policy level and implementing activities addressing both mitigation and adaptation), following the principle of 'think globally and act locally'.
The innovativeness of Action towards Resource-efficient and Low Carbon Cities in Asia are manifold: sensitization of top city (small and medium cities in developing Asia) authorities on climate change issues, involvement of different stakeholders, and development of the concept of preliminary city energy and climate plans. The authorities of Chau Doc town, Da Nang and Hue in Vietnam have developed 'city level climate and energy plan' following the guidelines from the national plan for mitigation and adaptation to climate change.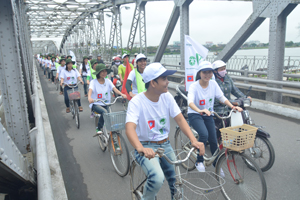 This links the "bottom up" and "top down" ideas for the development/implementation of plans and actions. Luang Prabang (Lao PDR), Da Nang (Vietnam), Matale (Sri Lanka) and Kurunegala (Sri Lanka) conducted awareness activities on climate change mitigation and adaptation to the youth to adopt environmentally friendly practices. It is also clear that more low carbon related activities are being envisaged by the city authorities based on the success of the initial results.
Action towards Resource-efficient and Low Carbon Cities in Asia was initiated in December 2009 and is in progress, and the activity will be completed by April 2013.
Mitigation / Adaptation
During one year, the total solid waste collection has been reduced by 33% in Kandy, Sri Lanka through social awareness programs and continuous monitoring. Waste collectors received better market prices for recyclable materials, and waste reduction from landfills was addressed. Initially, there were only few centers that sold/bought recyclable waste items. The Kandy Municipal Council then established more recycling centers within the area with increased rates. These centers are now popular among the residents and with the floating population. It is an encouragement to separate recyclable items without disposing them as waste.

The Da Nang Enviromental Protection Agency in Vietnam decided to implement its pilot activity in a primary school of Quang Trung. This school has trageted to reduce 15 to 30% of GHG emission through the efficient use of resources, energy saving, climate-friendly and environmental protection activities. The school has established "Environmental Protection Board" to provide environmental education at the school as well as to execute environmental friendly activities, such as waste management, tree plantation, energy saving measures, solar energy use for hot water, etc.
Matale Municipal Council in Sri Lanka targeted to reduce 5 % of solid waste dumped to the dumping ground through the promotion and supports the implementation of 3Rs related activities.
Benefits
In Luang Prabang, Lao PDR, the activity provided garbage bins to households to dispose their segregated waste. Recyclable materials in the bins were thus sold, bringing income to household and collector creating jobs.

The green path project at Kurunegala, Sri Lanka proposed by the citizen committee encourages people to walk and also by provides a pleasant and safe environment. During the construction phase, this activity created local jobs. The green path will reduce risk of pedestrian road accidents as this path is dedicated only for walking.
Mandandawela GN division of Matale Municipal Council in Sri Lanka carried out solid waste management by implementing home gardening, disseminating knowledge and information on low carbon initiatives. The environmental and public health issues created by waste addressed by proper waste management, and reporting of dengue cases significantly reduced.
The Rayong Municipality in Thailand implemented energy conservation program by changing the fluorescent lamps to more energy efficient lamps (with reflectors) in the public library.
On the occasion of 2012 Earth Hour, the "Energy Saving Day" was held by Hue City's Authority (Vietnam) in collaboration with partners. The activities included awareness raising on energy conservation, promotion of energy efficient home appliances, and changing incandescent light bulbs. Handbooks and posters were delivered to all administrative units under Hue Authority and to the seven member colleges of Hue University with simple guidelines on how to save and use electricity and public water more efficiently. It was accompanied with an official mandate from the city's Mayor asking relevant units and colleges to disseminate and implement such guidelines. Hue City also organized the "Recycling and Cycling Festival" by organizing the cycling tour around the city, cycling and recycling promotion, awareness raising, etc. The Festival attracted more than 500 young people, and was shown on local TV and published in local newspapers. There was also a competition on recycling initiatives with 10 awards and campaign medals.
Potential for scaling-up and replication
This project can be scalable at two levels at LCC project level and at city level.

At project level, this project introduced and applied Bilan Carbone (a GHG emission calculation tool) and a Territorial Climate and Energy Plan in ten cities to mitigate and adapt to climate change. This methodology could be introduced to other interested cities in a more comprehensive manner. Emission factors for various activities or processes, such as electricity use, fossil fuel use, food consumptions, travel by various modes, waste generation, infrastructures in the city, etc., for Asian cities is an important research area to provide reliable GHG emission inventory to help develop a Territorial Climate and Energy Plan.
At the city level, Kurunegala Municipal Council (Sri Lanka) has already prepared to scale up the green path activity to cover the entire lake round road with the length of approximately 4.5 km. By extending the green path to a total length of 5.5 km, a greater public awareness on the use of alternative modes of transport will be promoted. It is estimated that a total investment of around USD 170,000 will be required to implement this project of which USD 23,000 has already been spent. Sources of funding shall be mainly from revenues of the Municipality Council with donor support.

Following the multiple benefits from the pilot project at Katugastota, Kandy Municipal Council (KMC) in Sri Lanka, it is planned to introduce similar activities in other areas of the KMC as well. For example, KMC will replicate this plan to the "Mawilmada road" zone.

Based on achievements made, Chau Doc town's People Committee in Vietnam is planning to replicate the activities in all areas of the town. In addition, activity materials will be submitted to provincial level for use in other activities.

Based on the results of the pilot project at Quang Trung Primary School, Da Nang Environmental Protection Agency in Vietnam is planning to propose to the Department of Education and Training for testing similar activities in other schools in the city.
Images owned by the activity partners, all rights reserved.