Support to the Intergovernmental Process
Objective:
High-quality support to the UNFCCC intergovernmental process to enable Parties to the Convention, the Kyoto Protocol and the Paris Agreement to advance the international response to climate change.
Bodies and events supported:
Annual meetings of the Conference of the Parties (COP, CMP, CMA) for governments to take decisions

2 sessions per year of two technical bodies (SBI, SBSTA) in preparation for the COP, CMP, CMA

2 sessions (up to 2018) of an interim body (APA) responsible for key aspects of the Paris Agreement rule book
Plus:
20+ mandated events, incl. workshops between negotiation sessions, Technical Expert Meetings, Multilateral Assessments and Facilitative Sharing of Views.
Specific activities and outputs (please click on diagram to enlarge image):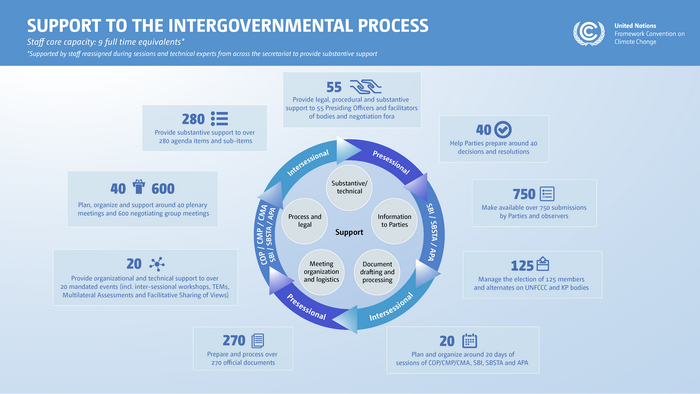 Related information (to be made available soon):
Support to Constituted Bodies

Organization of conferences and meetings