| | |
| --- | --- |
| | In an effort to bring the benefits of the Kyoto Protocol's clean development mechanism (CDM) to currently underrepresented countries in Latin America the United Nations Framework Convention on Climate Change (UNFCCC) secretariat has joined with the development bank of Latin America (CAF) to establish a CDM regional collaboration centre (RCC) in Bogotá, Colombia. |
Countries supported: Argentina, Bolivia, Brazil, Chile, Colombia, Costa Rica, Ecuador, El Salvador, Guatemala, Honduras, Mexico, Nicaragua, Panama, Paraguay, Peru, Uruguay.
---

Latest News
Final report on the nationally determined contributions survey available now!

Download the report >> (6208 kB)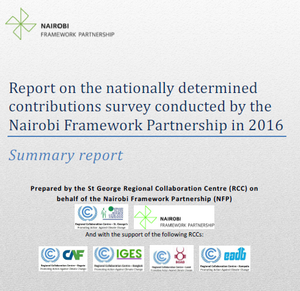 Developing Countries Urgently Need Finance to Green Power Sectors

Countries in Asia, Africa and Latin America and the Caribbean urgently need financial support to green their power sectors and thereby implement their national climate action plans under the

Paris Climate Change Agreement. This is a key finding of a report on the nationally determined contributions survey conducted by the Nairobi Framework Partnership in 2016.

Read more: English French Spanish



Download the report >> (6208 kB)
Other News

Paris Agreement's Economic Instruments Can Spur National Action, Ambition – Regional Dialogues

Reports just released from five regional meetings reveal the views of non-State actors in developing countries on the Paris Agreement's provisions for (1) transferring mitigation outcomes, essentially emissions trading; (2) a new Sustainable Development Mechanism; and (3) a framework for non-market approaches. All three of the economic instruments are described in Article 6 of the Paris Agreement.

Latin America summary report ( En) ( Sp) >>
All reports >>
Read the story on the UNFCCC Newsroom >> Eng Fr Sp


Honduras reducing emissions with help of UN mechanism
In the wake of the Paris Climate Change Agreement, Honduras is stepping up its efforts to measure and curb greenhouse gas emissions, making use of the UN's Clean Development Mechanism to do so.

Read more on the UNFCCC Newsroom >> Eng Fr Sp