CHAPTER 2 : NATIONAL INVENTORY OF GREENHOUSE GASES
In accordance with Article 4.1 a of the United Nations Framework Convention on Climate Change, all parties to the Convention are requested to update and report periodically on their national inventory of anthropogenic emissions and removals of greenhouse gases.
There is no primary fuel production in the Republic of Mauritius. Since all fuels are imported, the Republic is fully dependent on market vacillation and price fluctuation. Secondary fuel is imported for local consumption. Except for international marine and air bunkering, fossil fuel is not exported.
Greenhouse gas emissions and removals by sinks have been calculated for the year 1995, using the 1996 Intergovernmental Panel on Climate Change IPCC guidelines for the Preparation of National Communications, inclusive of all the six identified items.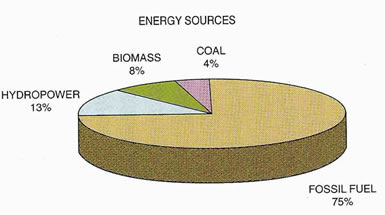 Energy-related activities are the most significant contributors of greenhouse gases. Energy is produced mostly through the combustion of fossil fuels such as petroleum, natural gas and coal, which accounts for 90% of the total with the remaining 10% from hydropower and biomass.






Carbon Dioxide CO2 emissions 1995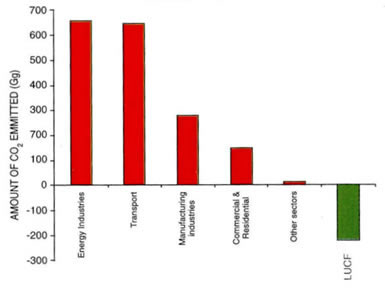 Carbon dioxide is produced from a variety of fossil fuels used for activities such as public electricity production, transport, manufacturing industries, commercial and residential buildings. Industrial processes, agriculture, forestry and fisheries contribute insignificantly.
Other gases like methane, nitrogen dioxide, nitrous oxides, carbon monoxide, non-methane volatile organic compounds and sulphur dioxide accounted for about 5% of the total greenhouse gas emission.








Non CO2 Emissions Gg

GAS

CH4

N20

NOX

CO

NMVOC

SO2

AMOUNT

4.600

0.727

10.180

67.003

15.481

13.369
INTRODUCTION
Climate Systems and Radiative Forces
Solar energy is the main source of power that drives the climate systems of the earth. About 70% of the short wave solar radiation is absorbed by the earth's surface, oceans, ice caps and the lower atmosphere known as the troposphere. The rest is re-radiated into space. The absorbed short wave solar radiation is reflected back into the atmosphere in the form of out-going long wave infrared radiation. Some atmospheric gases, existing naturally in the atmosphere and known as greenhouse gases GHGs, can absorb or "trap" the outgoing long wave radiation emitted from the earth and re-radiate it back to the earth, thus keeping the earth and its atmosphere warmer than it should have been. In the long-term a balance is reached between the absorbed short wave solar radiation and the outgoing long-wave terrestrial radiation. The climatic and radiative balance, restored through this mechanism, resulted in a higher temperature on the earth's surface thus permitting life to exist on the planet. Without the presence of these greenhouse gases, planet Earth would have been uninhabitable.
Greenhouse Gases
The naturally existing greenhouse gases are:
water vapour H20
carbon dioxide C02
methane CH4
nitrous oxide N20
ozone 03
Man-made compounds such as chlorofluorocarbons CFCs, their substitute hydrofluorocarbons HFCs, and perfluorinated carbon PFCs also act as greenhouse gases. Other gases such as carbon monoxide C0, oxides of nitrogen N0X and non-methane volatile organic compounds NMVOC, contribute indirectly to the greenhouse effect. Sulphur dioxide S02 also contributes negatively to the greenhouse effect. Concentrations of these greenhouse gases are going up significantly in the atmosphere since the industrial revolution era, due to human activities. The massive injections of these GHGs in the atmosphere may upset the radiative balance of the atmosphere and could have severe impacts on climate systems, resulting in global warming and sea level rise.


Methodology and Data

The emission estimates, presented in this initial communication, were calculated according to the 1996 IPCC Revised Guidelines for National Inventory of Greenhouse Gas, to ensure that the emission inventory is consistent and comparable across sectors and between Parties. A copy, of the IPCC guideline worksheets and reporting tables, is appended in the annexes. The IPCC guidelines have been followed to the letter and all default values provided have been used.

Both the top-down and bottom-up approaches have been used for the preparation of this national inventory of greenhouse gases.

Sources of data

The data for energy production and consumption activities are based on the latest information and were obtained from the following sources:
Energy balance for base year 1995
Baseline scenario 1995-2020
Central Statistical Office
State Trading Corporation
Central Electricity Board
Bulk Bitumen Company Ltd
Mauritius Marine Authority
Mauritius Sugar Authority
Ministry of Agriculture, Fisheries & Co-operatives - Forestry Department
Data, for a particular item, were obtained from two or more sources at times. Discussions were held among concerned parties to arrive at the most viable and reliable information.


Organization

The National Inventory has been organised into six parts corresponding to the six major source categories, as described in the IPPC 1996 Guidelines.

I. Energy Activities
A. Fuel Combustion Activities
Energy Industries
Transport
Manufacturing Industries and Construction
Other Sectors
Other
B. Fugitive Emissions

C. Memo Items
II. Industrial Processes
III. Solvent and other Product Use
IV. Agriculture
Enteric fermentation
Manure management
Agricultural Soils
V. Land Use Change and Forestry
Managed lands
Grassland Conversion
Managed Forests and
Clearing Forests
Vl. Waste
Solid waste disposal on land
Waste water handling

Uncertainty and limitation of emission estimates
The uncertainties and limitations, as per IPCC guidelines, will be reflected in this chapter.

EMISSIONS
Energy
GHG emissions were mainly from two fossil fuel types: liquid and solid fuel categories. Liquid fossil fuels consisted of gasoline, jet kerosene and other kerosene, gas/diesel oil, liquefied petroleum products Lpg and lubricants. Coking coal was the most commonly used solid fossil fuel.
The total amount of GHG emissions for the energy sector was 1835.338 Gg, out of which 1736.852 Gg is directly from C02 emissions. C02 emissions, from fossil fuel, represented 99.9% of total emissions of carbon dioxide and 94% of all greenhouse gas emissions.


Public Electricity
The Republic relied heavily on fossil fuel for the production of electricity since other sources were limited. The resulting C02 emission from this activity totalled 655.575 Gg, representing 38% of total C02 emissions.

Transport
Road transport is the only available means to cater for passenger and freight displacement. The transport sector consumed 86 536 t of gasoline and 119 287 t of diesel, thus producing of C02 emissions of 644.977 Gg which represented 37% of total C02 emissions.

Manufacturing and Construction Industries
The major industries, in the Republic of Mauritius, comprised the following:
Sugar
Textile
Tobacco
Stone crushing and block-making and
Beverages and allied industries
In the sugar industry, bagasse is the main source of energy and any excess electricity produced is fed into the national power grid. Fossil fuels are mainly used for the production of steam and heat in the textile industry. Lpgis also used in relation to the spinning process. Electricity is the main source of energy for driving motors, lighting and air conditioning. CO2 emissions from this sector accounted for about 16% of the total emissions and were estimated at 277.655 Gg.


Residential / Commercial Sectors

Energy needs in the residential/commercial sectors were met mainly from the following sources:
Kerosene
Lpg
Charcoals
Fuel wood and
Electricity
Both the residential and commercial sectors relied heavily on electricity for lighting and air conditioning purposes. Cooking needs were satisfied mainly from Lpg. The need for fuel wood and charcoals exerts pressure on the already reduced natural forest reserves - less than 3% of the total area.

In 1986 the Government promoted the use of Lpg, as an alternate source of energy, by reducing up to 50% customs duty on its import. All appliances, using Lpg, were exempted from all taxes. A sharp increase in Lpgconsumption was noted and reached 30 174 tons in 1995. This trend is being maintained and future Government policy is to phase out completely the use of kerosene, fuel wood and charcoal.

CO2 emissions from these two sectors were estimated to be 148.389 Gg and represented 9% of the total emissions.

Sectoral CO2 emissions Gg based on Fuel Types

Sectors

Fuel type

Public
Electricity

Transport

Manufacturing/
Constructing Industries

Residential/
Commercial
Sectors

Residual
Fuel Oil

412.339

-

-

-

Gas/Diesel Oil

9.805

379.001

115.016

-

Gasoline

-

265.976

65.091

-

Other Kerosene

150.722

-

-

49.386

Coking Coal

82.709

-

-

-

Cooking Coal

-

-

89.555

-

Lpg

-

-

7.993

99.003
Non-CO2 emissions from fossil fuel combustion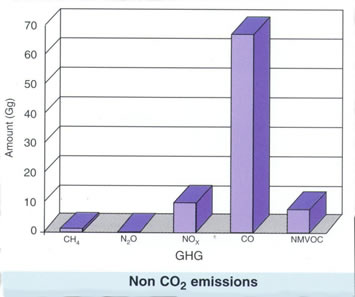 Apart from CO2 emissions, fossil fuel combustion produces other greenhouse gases, such as methane and nitrous oxide, and also the photochemically important gases such as oxides of nitrogen, carbon monoxide and non-methane volatile organic compound, which are all products resulting from incomplete combustion. Amounts of these non-CO2 emissions vary depending on types of fuel and technology used, and existing pollution control practices.

Sulphur Dioxide Emissions from fossil fuel combustion
Varying proportions of sulphur are found in fossil fuels and during their combustion sulphur dioxide, which acts negatively on the greenhouse effect, is emitted. The amount of SO2 emissions depends on the sulphur content of the fuel, the sulphur retention in the ash, the abatement efficiency and other factors. Local figures provided by competent authorities for sulphur content of all imported fossil fuels have been taken into consideration in the calculations together with default values provided by IPCC.

SO2 emissions in 1995 were estimated at 13.369 Gg and details are presented in the summary table. Electricity production accounted for more than 66% of total SO2 emission.

Carbon stores in products
Bitumen and lubricants have been imported in l995 for non-energy application sectors such as road construction. The carbon stored has been estimated at 17.184 Gg.

| | |
| --- | --- |
| Product | Carbon stored Gg |
| Lubricants | 2.833 |
| Bitumen | 14.351 |
| Total | 17.184 |
Fugitive Emissions
Coal mining, handling, production, processing, transport and use of oil and natural gas as well as the non-productive combustion and conversion of crude petroleum into a variety of sub-products are associated with fugitive emissions are not carried out in Mauritius. Therefore fugitive emissions from fuels are nil.

Memo items
International bunkers
International bunkering accounted for 670.285 Gg of CO2 emission in 1995 and the details are given in the table below.

| | |
| --- | --- |
| Fuel type | CO2 emission Gg |
| Jet Kerosene | 339.200 |
| Gas Diesel Oil | 270.237 |
| Residual Fuel oil | 60.848 |
| Total | 670.285 |
.
Greenhouse gases are also produced, as residues of various non-energy related activities. These gases are emitted directly from the process itself, not as a result of energy consumption during the process.
The production processes, of interest to the Republic of Mauritius, are:
· Lime production
· Asphalt, used for tarring roads
· Nitric Acid production and
· Food and Beverages
The above-mentioned activities are carried out on a very small scale and contribute to the following emissions.

| | |
| --- | --- |
| GHGs | Amount Gg |
| Carbon Dioxide | 1.580 |
| Nitrous Oxide | 0.279 |
| Oxides of Nitrogen | 0.372 |
| NMVOC | 7.726 |
SOLVENT AND OTHER PRODUCT USE

Solvent and other chemical products can produce emission of some greenhouse and photochemically important trace gases. Emission from this sector has not been calculated due to lack of sufficient data.


AGRICULTURE
The Republic of Mauritius depends almost entirely on imports for its main basic foodstuffs, except for vegetables. It has a very small livestock population. There is no cultivation of rice, no prescribed burning of savannas or field burning of agricultural residues. Mauritius is concerned with only enteric fermentation, manure management and agricultural soils on a very small scale only. Emissions from animal production and from animal waste management system are negligible.
The resulting methane emissions is summarised below:

| | | | | |
| --- | --- | --- | --- | --- |
| Livestock type | Population | Enteric Fermentation | Manure Management | CH4 emission Gg |
| Dairy cattle | 8500 | 306.00 | 8.50 | 0.314 |
| Non Dairy cattle | 8000 | 256.00 | 8.00 | 0.264 |
| Sheep | 1500 | 7.50 | 0.31 | 0.007 |
| Goats | 10000 | 50.00 | 2.20 | 0.052 |
| Horses | 500 | 9.00 | 1.10 | 0.010 |
| Mules & Asses | 25 | 0.25 | - | - |
| Swine | 12000 | 12.00 | 24.00 | 0.036 |
| TOTAL | | 640.75 | 44.11 | 0.683 |
Agricultural Soils
Nitrous oxide can be produced from agricultural soils through various activities such as application of synthetic fertilizer, animal waste, nitrogen-fixing crops, crop residues and through indirect emissions from the atmospheric deposition. The N20 emissions from these activities have been estimated at 0.403 Gg. There is no N20 emission from the cultivation of histosols.

A wide variety of carbon and nitrogen trace gases are either emitted or absorbed in the biosphere. Any changes in the biosphere, through land use changes and forestry activities will modify the natural balance of these trace gases both in emissions and uptake. On the global scale the human activity which most affects the biosphere is deforestation, especially in the tropical region.
In this sector, the calculation of emissions focuses on four activities which act either as sources or sinks:
abandoning of managed lands
grassland conversion
managed forests
clearing forests

Abandoning of Managed lands
Since land area in Mauritius is very limited, intensive agriculture is practiced on all suitable land and there is no abandoning of managed lands.

Grassland conversion
Under this item it is required to estimate the net CO2 emissions resulting from the conversion of grasslands into cultivated lands during the last 25 years up to the inventory year. Grassland conversion has been negligible, in the Republic, as there has been practically no grassland, which has been converted to cultivated land.

Managed forests
Forests are critical components of the climate system. Their potential for sequestering greenhouse gases is enormous, and they act as an additional "reservoir" for CO2 emissions. Prior to the 16th century, the whole island of Mauritius was covered with dense forests, mainly of tall, slow-growing trees. Unfortunately in the late 18th and early 19th century, most primary forests were cut down as land was converted for agricultural purposes. Forests were cut for timber to build boats and houses, for fuel wood and particularly to clear land for cane cultivation. Today less than 1% of the area of Mauritius is under some sort of native vegetation.
In the National Inventory assessment survey for Mauritius, the CO2 uptake from changes in forests and other woody biomass stocks was analyzed and the results presented in the table below.

Carbon Uptake by Forests
Plantations

Area kha

Annual Growth Rate
tdm/ha

Annual
Biomass Increment ktdm

Carbon Fraction
of Dry Matter

Total Carbon Uptake
Increment ktc

Conifers

12.55

5.25

65.924

0.45

29.666

Casuarina

0.65

6.30

4.095

0.45

1.843

Nature Reserves

9.20

1.30

11.960

0.45

5.382

Exotic Scrubs

34.54

2.60

89.804

0.45

40.412

Total

56.94

77.303
Non Forest Trees Conifers
Number of trees = 600,000
Annual growth Rate = 2.916 x 103 kt dm
Annual Biomass increment = 600 x 2.916 x 103 = 1.749 ktdm
Carbon Fraction of Dry Matter = 0.45
Carbon uptake Increment = 1.749 x 0.45 = 0.787 ktc
Carbon Uptake
Total Carbon uptake Increment = 77.303 + 0.787 = 78.090 ktc
The annual biomass carbon removal is 17.749 ktc/yr
Thus the net CO2 flux is 221.36 Gg

Forest clearing
The conversion of forests to permanent cropland or pasture is insignificant in Mauritius since the land area is small and limited. There is no remaining forestland that could be converted to cropland.

Methane is one of the principal sources of greenhouse gases contributing to global warming, second only to carbon dioxide. Methane emissions originate from several sources including anaerobic decomposition of organic wastes in solid waste disposal sites, in sludge and residual solid by-products. In this sector, methane emission is calculated from solid waste disposal sites and from domestic and industrial waste water handling.

Solid waste disposal site on land
Anaerobic decomposition of organic matter in solid waste disposal sites by methanogenic bacteria results in methane emissions. The method used to calculate methane emission depends on the amount of waste disposed, the fraction of degradable organic carbon, the amount, which actually degrades, and the fraction of methane in landfill gas. It is also assumed that methane is released in the same year that the waste is placed in the disposal site.
There is no sanitary landfill at present in Mauritius. Solid wastes are disposed of in about ten open disposal sites. No accurate data on the quantity of waste collected is available. In 1993, Scott Wilson Kirkpatrick, a consulting firm which prepared the "National Solid Waste Management Plan", estimated that the domestic waste produced per head is 0.6 kg per day. Since there has been a lot of waste burning in the open disposal sites, it is estimated that only 20% of the domestic waste disposed of, could be considered to be in the landfill sites. The calculations IPCC worksheet 6-1 have shown that the net methane emission from domestic solid waste disposal is 3.406 Gg.

Domestic waste water handling
Domestic waste water includes all liquid wastes from factories, hotels, restaurants and residential premises. Only parts of two urban districts of Port Louis and Plaines Wilhems have sewage facilities, representing only 20% of the population. At present all our waste water treatment works comprise of preliminary treatment, that is screening, removal of grit and disintegration of solids and then the effluents are disposed of through sea outfalls. There is no anaerobic treatment of sewerage and so no production of sewage sludge. The remaining 80% of the population use septic tanks and on-site disposal systems.
Hence, no estimates of methane emissions from domestic waste water have been made.

Industrial Waste Water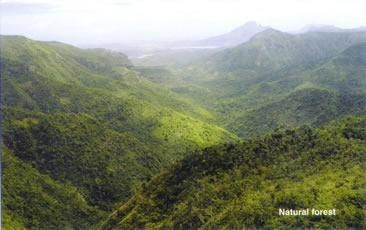 Agro-industries and dye houses essentially produce the industrial waste water, and they are largely untreated. Many factories discharge their waste water into the subsoil. The sugar factories use their effluent for irrigation. In some cases, effluent is treated prior to disposal but most treatment plants provide for biological treatment by an oxidation process and a correction of pH. There is no anaerobic treatment of effluent. Thus, estimation of methane emission from industrial waste water has not been carried out.


Any adaptive or mitigation measure to be taken for the Republic of Mauritius, will have to be in the field of either electricity production or transportation. Increase in energy-efficient use of equipment in the manufacturing sectors will not only cut down cost of production but will also contribute to a decrease in GHG emission.

ANNEXES