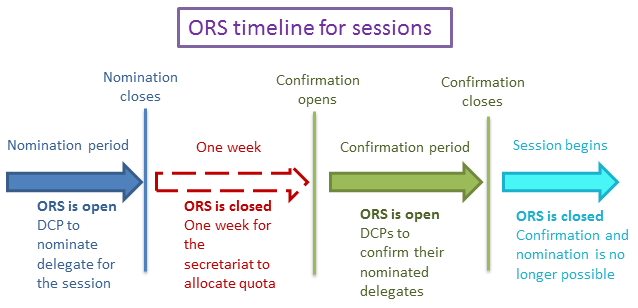 Admitted NGOs may be represented at sessions of the Convention bodies as observers provided that they use the Online Registration System (ORS) to nominate and confirm representatives by the set deadlines.
Notification: The secretariat's usual practice is to post official information for upcoming sessions on the UNFCCC website three months prior to the start date of the sessions. You can find current information on the Notifications page of the UNFCCC website.
Registration: ORS will open upon issuance of the notification/information note which contains the nomination and confirmation deadlines. Designated Contact Points (DCP) of admitted NGOs should use the system to nominate and confirm representatives by the given deadlines. Late nomination and confirmation of representatives after these deadlines will not be accepted.
For further information and guidance on the nominations and confirmation process and using the system, please refer to the

ORS User Manual.
For technical assistance when using the system, please contact onlinereg@unfccc.int.
For other issues relating to registration, please contact the secretariat through the communication field within the ORS.
---
Guidelines for participation:

(191 kB)
Use of cameras and audio/video recording devices:
(118 kB)
UN security guidelines:

(129 kB)
Information on in-session engagement at past Climate Change Conferences
Bonn Climate Change Conference - May 2017 (SB 46)

Statements by NGO Constituencies are published in the Submission Portal (Please search 'Statements' and use the filters for easy retrival)

Marrakech Climate Change Conference - November 2016 (COP 22/CMP 12/CMA 1.1):
Bonn Climate Change Conference - May 2016 (SB 44)

Statements by NGO Constituencies are published in the Submission Portal (Please search 'Statements' and use the filters for easy retrival)

Paris Climate Change Conference - November 2015 (COP 21/CMP 11)
Constituencies in the UNFCCC are loose groups of NGOs with diverse but broadly clustered interests or perspectives. Please see the following document for more details including the benefits of belonging to a constituency:
Constituencies and you (version as of May 2014)

English (93 kB)

Español (28 kB)

Français (83 kB)

Constituency contacts (296 kB)
If your organization already belongs to a constituency is indicated on the list of admitted NGOs.
Participating in workshops and intersessional meetings

Workshops and meetings are mandated by the COP or subsidiary bodies as vehicles for informal advice and inputs from experts, information sharing among delegates, and promoting consensus-building on strategies outside the political negotiations. They are normally small, with restricted numbers of participants to allow them to function effectively and to fulfil the task assigned to them. The chairs of the subsidiary bodies, advised by the workshop/meeting chairs, have key roles in deciding the format of, and participation at, a workshop/meeting, including deciding whether and how many observers will be invited. This number will be determined by the nature of the workshop/meeting and the resources available, and will take into account the level of interest among the observer organizations, with the ultimate aim of allowing an effective working atmosphere with an appropriate balance of participants.
Participation of non-governmental organizations is facilitated through the constituencies (see above), so as to aim for a balanced representation of the admitted non-governmental organizations. The secretariat contacts constituency focal points for them to nominate constituency representatives based on the expertise required for respective workshops/meetings. Constituency members interested in, and suitably qualified in the matter of, a particular workshop/meeting, should contact the respective constituency focal point. Please note that selection of representatives will be at the discretion of the relevant constituencies and the secretariat has no involvement or influence on this.
The schedule of workshops and meetings can be found here.
Related documentation regarding observer participation at workshops is accessible through MAS Observers.

Français (69 kB)
---
Submissions from observer organizations
Convention bodies often request written input on views and information on various issues under negotiation. These mandates are extended to observer organizations.
| | | | | | | | | |
| --- | --- | --- | --- | --- | --- | --- | --- | --- |
| | Technology transfer [TT:CLEAR] | | | Public awareness, education and training [CC:iNet] | | | Project-based mechanisms [CDM, JI] | |
Keep your finger on the pulse during and between UNFCCC sessions
---
In order to ensure timely communication, admitted NGOs are to inform the secretariat of any change in their contact details by completing a Contact Details Form for already admitted NGOs and sending it to cool@unfccc.int. Please note the following:
Only typed forms sent electronically are acceptable. In case your browser does not support the filling of form fields, you may try a different browser or open the form in a PDF reader supporting this feature.
Only provide the information which needs to be changed. If information is not changed, please tick "No changes" and leave the respective fields empty.
Our database cannot carry multiple email addresses for one person.
Provide the names of persons exactly as indicated on the person's passport.
A digital signature or a scanned copy are sufficient.
In case the head of organization changes, please provide official communication to that effect. Please also note that the highest ranking official in an organization should be registered as head of organization.
In case the name of your organization has changed, please provide official supporting documents (e.g. a new registration certificate issued by a government authority as well as scanned copies of the amended articles of association/statutes of your organization).
The processing of the form usually takes around 5 working days. As changes to the contact details might affect your access to the online systems for registration and side events and exhibits, kindly ensure submission of the form well in advance of relevant deadlines.
Contact Details Form: English/ Français (This form is not for registering for conferences. It is only used to update contacts of organizations that already have observer status!)
---
For press briefings please consult our website here.
For inquiries regarding observer engagement contact cool@unfccc.int.