Image: IISD

On Wednesday, some 17 international organizations, each with specific expertise in concrete climate action and support, made presentations in Bonn on how they can assist countries in the process of arriving at their nationally determined contributions to the 2015 universal climate agreement, and how support - especially to developing countries - can be provided. This active engagement was welcomed by all countries, which now have the opportunity to continue to engage with these organizations. View webcast.
The presentations were made in response to a mandate from COP19 in Warsaw, where international organizations were invited to engage in a dialogue to foster the sharing of experience and relevant information. Also in Warsaw, countries agreed to initiate or intensify domestic preparations for their intended nationally determined contributions, which will be included in the 2015 climate change agreement and which need to be ready by March 2015. At COP 19, governments urged and requested developed country Parties, the operating entities of the financial mechanism, and any other organizations in a position to do so, to provide support for the preparations as early as possible in 2014. The contact details of the relevant organizations are provided on the presentations page.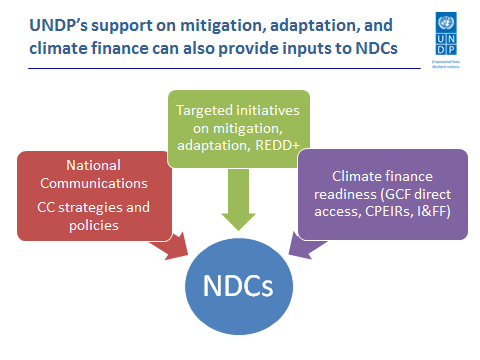 One example of support offered in Bonn, by UNDP
The technical expert meeting on renewable energy wrapped up Wednesday, concluding three days of fruitful discussions. Summing up the discussion, facilitator Youba Sokona said the meeting went a long way to demonstrate the potential of renewable energy to close the pre-2020 ambition gap. He pointed out that there are barriers and challenges to the deployment of renewable energy. But he also said policy and technology solutions exist to address them, bearing in mind that there is no one size fits all policy, and that different policies apply to different countries as per their national circumstances. View webcast.
Also on Wednesday, the technical expert meeting on energy efficiency kicked off. Energy efficiency is the "low hanging fruit" of climate action, covering a broad range of issues across all sectors of the economy. Overall costs of energy efficiency are generally low compared to other options, and many measures have low or negative net costs and short payback time. South Africa, Japan, Columbia and Singapore made presentations about their experiences in promoting renewable energy, with Singapore mentioning its target to green 80% of its buildings by 2030. View webcast.

Singapore's energy efficiency target for buildings
Meanwhile, the World Bank made a useful visual reminder, warning that climate change would roll back hard-won development gains, should the agreed goal of a maximum two degrees Celsius temperature rise not be achieved.