The NAMA Registry is a publicly available online platform operated by the UNFCCC Secretariat. Its purpose is to increase opportunities for implementation of and recognition for Nationally Appropriate Mitigation Actions (NAMAs) in developing countries.

The registry allows developing countries to record information for all NAMAs seeking support for development or implementation, whether they are smaller individual projects or larger national initiatives by sector. Parties are also encouraged to enter information for NAMAs that they have implemented without external support in order to be recognized for their mitigation efforts.

Another essential purpose of the registry is to facilitate Financial, Capacity-Building, and Technology support for NAMAs by providing Annex I Parties and Organisations a mechanism to publicly announce their available resources.

Anyone can Browse and Search the NAMA Registry.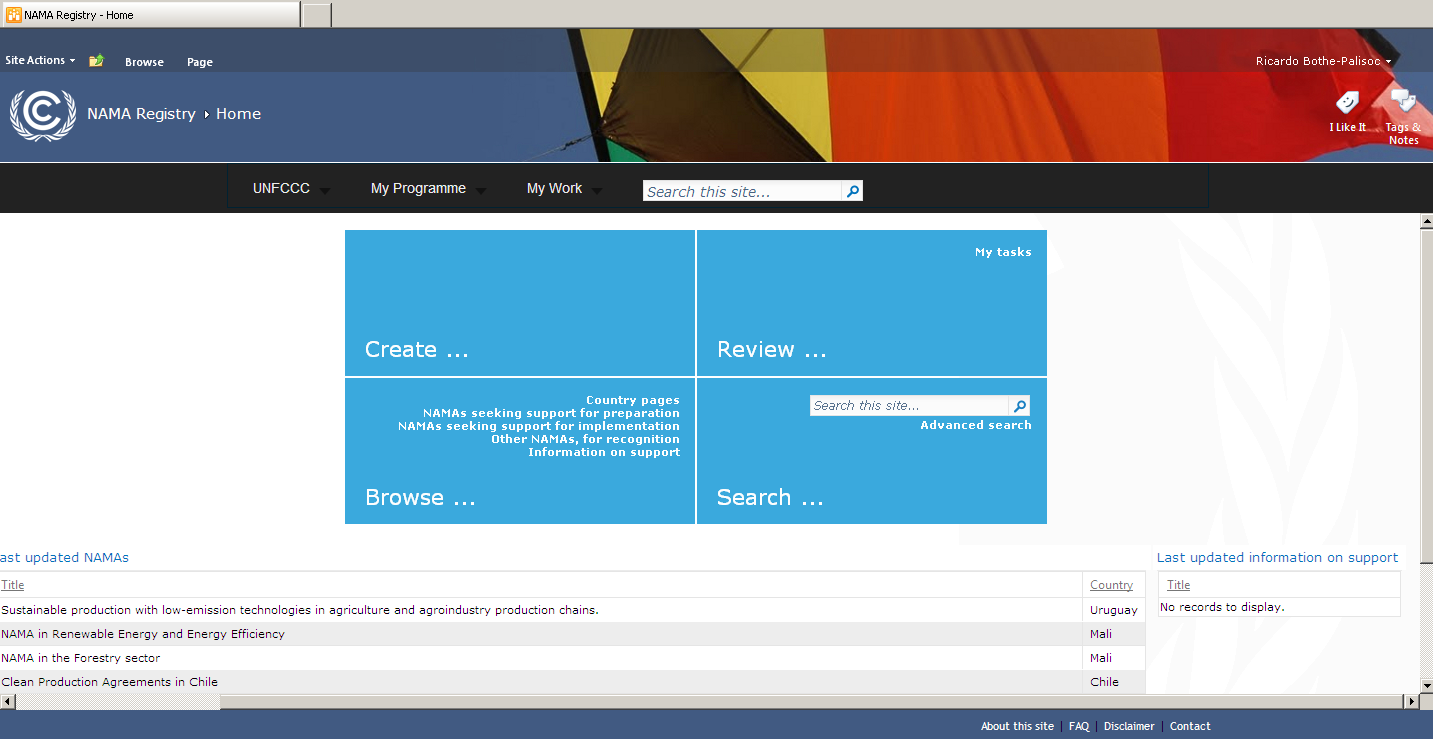 http://www4.unfccc.int/sites/nama
NAMA Developers, NAMA Approvers, and Support Editors can submit information to the NAMA Registry with one of the following special access rights:
1.) NAMA Developers can Create, Edit, Update, and Delete their own NAMA entries as well as Submit them for approval. Please contact your National Focal Point or National NAMA Approver for access to the registry. A list of Registered NAMA Approvers is available here: Registered NAMA Approvers (84 kB) .

2.) NAMA Approvers are responsible for approving all individual NAMAs for their country before they are recorded in the Registry. They may Create, Edit, Update, and Delete entries for their country, as well as approve access for "NAMA Developers." There is only one Username and Password for this role for each developing country Party.

To request access for a NAMA Approver or NAMA Developer have your National Focal Point complete the necessary NAMA Approver form below: and submit it to: NAMA-Registry@UNFCCC.int

3.) Support Editors can Create and Submit entries to indicate support of NAMAs. Developed Country Parties, and Public and Private Organizations with programs of support relevant to NAMAs may receive Support Editor Access to the NAMA registry.

To request access for a Support Editor complete the necessary Support Editor form below: and submit it to: NAMA-Registry@UNFCCC.int